[WATCH] Stir-fried rainbow greens
Watch Michael Diacono make the perfect side of rainbow greens with colourful Swiss chard and curly kale. This recipe does not need to be stuck to religiously. Add the rainbow chard (or any other green veg) to any vegetables you may have including mushrooms, mange tout etc.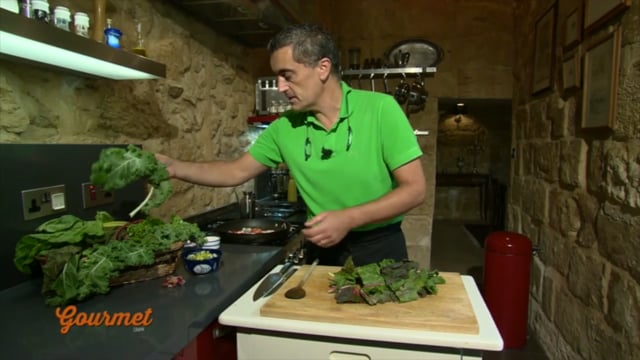 Michael Diacono adds some colour to winter greens with stir-fried chard for Gourmet TV
Stir-fried rainbow greens
Ingredients
Oil for frying
2 cloves garlic, peeled and chopped
1 large onion, peeled and cut into medium-sized slices
2 carrots, peeled and sliced diagonally
A good bunch of fresh greens (any selection of chard, kale, spinach, bok choy will do)
Dark soy sauce
Chilli pepper
Fresh coriander and parsley, chopped
Fresh rocket flowers to garnish
Method
Have all your ingredients prepped from before and ready for cooking. Make sure the greens are washed well and dried. If using large leaves, cut to size.
Heat oil in a wok or large pan and add garlic and onion. Stir-fry for a few minutes to soften but do not allow to colour.
Add the carrots and stir well to coat with the oil and continue to stir-fry for another 3 mins.
Add all the greens and mix well. Make sure heat is on the highest setting and cook till leaves start to wilt, then season with soy sauce and some chilli.
Transfer to a serving bowl and garnish with the chopped herbs and flowers.