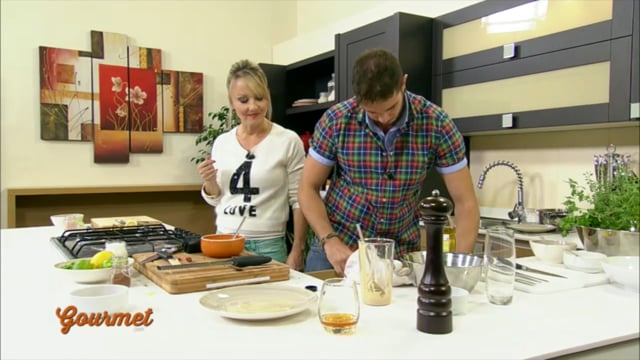 Sean Gravina makes a prawn tartar with crushed almonds and a shrimp and lemon mayonnaise for Gourmet Today TV
Prawn tartar with crushed almonds and lemon mayonnaise
Serves 2
Ingredients
250g local king prawns
1 tsp grated lemon zest
1 tbsp lemon juice
2 tbsp extra virgin oil
Pinch of cayenne pepper
Kosher Salt
Handful almonds, crushed
Chives
Shrimp mayo
1 cup shrimp stock
1 large egg yolk
½ tsp Dijon mustard
¼ cup olive oil
½ canola oil
½ tsp grated lemon zest
½ lemon, juice only
1 tsp cognac
Salt and pepper
Method
To make the mayo, pour the stock into a small heavy saucepan, bring to the boil and reduce to 2 tbsp (approx 7 mins) and transfer to mixing bowl.
Add the yolk and mustard to the reduced shrimp stock and whisk together. Whisk in the canola oil, a few drops at a time at first and then in a thin, steady stream, the whisk in the olive oil until the mayonnaise thickens.
Whisk in the lemon zest.
Add the juice a little at a time, tasting as you go.
Stir in the cognac and season to taste with salt and pepper.
Set the mayo aside and prepare the tartar.
Fill mixing bowl with ice and place another bowl on top.
Peel and devein the prawns and rinse under cold water and dry with paper towel.
Cut into ¼-inch pieces and place in the chilled bowl as you work.
Fold the zest, juice, olive oil and the cayenne into the diced shrimp and season with salt and pepper.
Serve the tartar with the shrimp mayo and crushed almonds.
This recipe first appeared on Gourmet Today TV, aired on TVM on 24 October 2014.