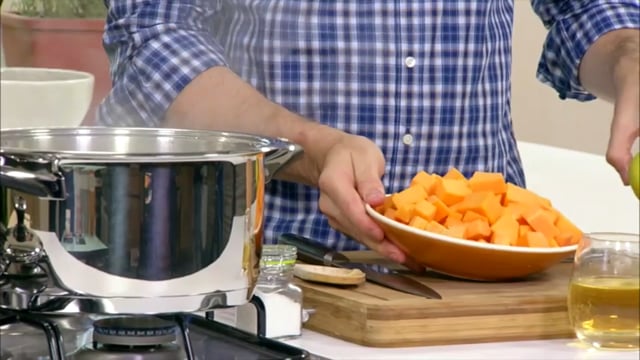 Sean Gravina makes a butternut squash soup served in a pumpkin shell
Baked butternut squash soup in a pumpkin shell with gruyère cheese
Ingredients
1 medium sized pumpkin (cleaned and gutted)
2 butternut squash
1 leek
¼ cup apple juice
2 sage leaves
Nutmeg, freshly grated
1.5 litre chicken stock
1 cup cream
1 tbsp butter
50g gruyère
Handful pumpkin seeds
Method
Preheat the oven to 190°C.
Clean and gut the pumpkin and place in oven for 15 mins.
Clean out the butternut squash and chop into small pieces of equal size.
Sauté the leek in the butter on very low heat for 10 mins, making sure you don't add colour to the leek.
Add the butternut and lightly colour, then add apple juice, sage leaves and freshly grated nutmeg.
Season and cover and allow to simmer for 15 – 20 mins until the butternut is tender.
When the vegetables are cooked, turn off the heat and blend. If you want a really smooth soup, pass through a sieve.
Add the cream and butter and stir until combined.
Take the pumpkin out of the oven and place a handful of grated gruyère at the bottom.
Fill the pumpkin shell with soup and replace the lid of the pumpkin
Bake on a baking tray with a greaseproof paper for a further 30mins.
Five mins before it is done add the remaining gruyère along with the pumpkin seeds and gratin under the grill.
Serve immediately.
This recipe first appeared on Gourmet Today TV, aired on TVM on 31 October 2014.