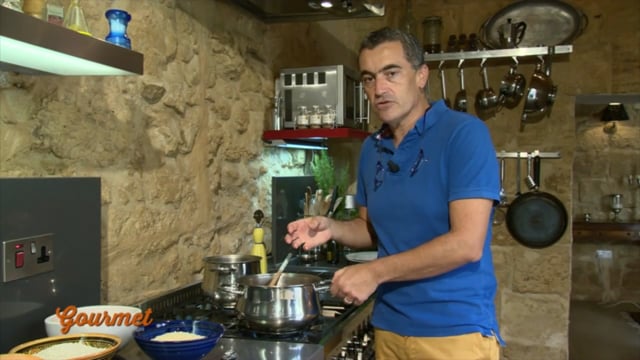 Michael Diacono makes a simple pumpkin risotto
Simple pumpkin risotto
Ingredients
50g unsalted butter
1 onion, finely chopped
500g pumpkin, peeled and chopped
Salt and pepper
Rosemary, finely chopped
300g arborio rice
100ml dry white wine
1 litre stock
60g Parmesan, grated
1 tbsp butter
1 tbsp parsley, finely chopped
Method
Melt butter in a large pot and stir fry onion for a few minutes to soften.
Add chopped pumpkin and season well.
Fry gently for 5 mins then add rosemary and rice.
Stir to coat then douse with wine and leave to evaporate.
Start to add the warm stock slowly, stirring often till rice is cooked al dente.
Stir in the cheese then the butter and serve with finely chopped parsley.
This recipe first appeared on Gourmet Today TV, aired on TVM on 31 October 2014.