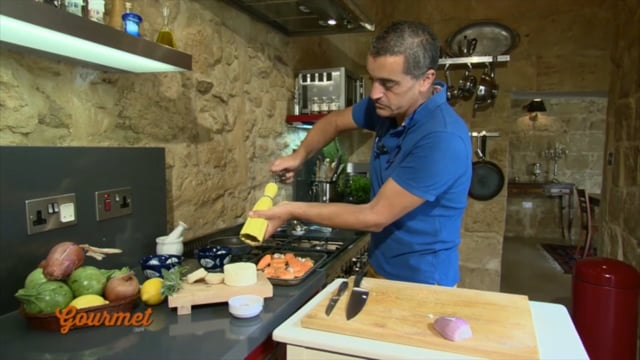 Michael Diacono makes a roasted pumpkin and feta cheese salad with coriander
Roasted pumpkin with feta and coriander
Ingredients
1 tsp coriander seeds
1 butternut squash or 1.5kg red pumpkin, peeled and cubed
3 tbsp olive oil
Fresh thyme or rosemary
3 cloves garlic, unpeeled
1 onion, peeled and sliced
150g cubed feta cheese
1 lemon, juice only
Small bunch of fresh coriander
Method
Preheat oven to 180°C.
Toast the coriander seeds in a dry pan on a low heat for 3 mins, then cool slightly and grind using a pestle and mortar.
Place pumpkin into a roasting tray with the oil.
Season with salt and pepper and any herbs you are using.
Add the whole unpeeled garlic.
Bake for 25 mins, but after 10 mins stir in the ground coriander seeds.
Remove from the oven and cool slightly. Discard the thyme sprigs.
Remove the roasted garlic and peel.
Mix the sliced onion and the feta into the pumpkin and place in a serving bowl.
Press the cooked garlic and mix with the lemon juice.
Add 2 tbsp olive oil to this and use to dress the pumpkin.
Scatter with chopped coriander leaves.
This recipe first appeared on Gourmet Today TV, aired on TVM on 31 October 2014.