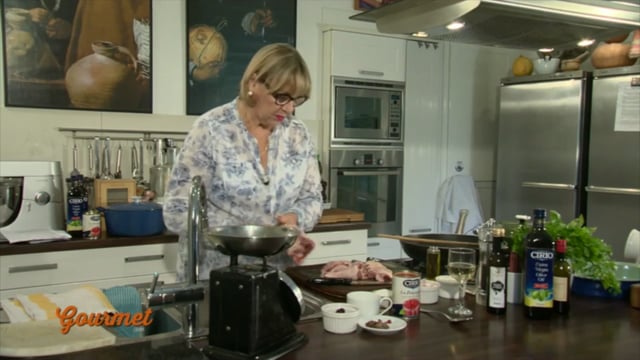 Pippa Mattei makes a chicken cacciatore
Chicken cacciatore
Serves 4
Ingredients
4 chicken thighs
Salt and pepper
6 tbsp oil
1 onion, peeled and chopped
1 clove garlic
½ cup white wine
1½ tbsp vinegar
1 chicken stock cube
½ cup water
1 tsp basil
1 tsp sugar
400g can peeled tomatoes
2 anchovy fillets
¼ cup milk
60g black olives
1 tbsp chopped parsley
Method
Cut chicken thighs in half and season with salt and pepper.
Heat oil in pan add chicken pieces and brown on all sides.
Put the chicken in an ovenproof dish.
Pour off most of the pan juices leaving 1 tbsp of them in the pan.
Add peeled and finely chopped onion and crushed garlic to pan, cook until onion is transparent.
Add wine and vinegar and boil until reduced by half quantity.
Add crumbled stock cube and water, stir over high heat 2 mins.
Push tomatoes with their liquid through sieve, add to pan with basil and sugar, cook further 1 min.
Pour tomato mixture over chicken pieces. Cover, cook in moderate oven 1 hour.
Soak anchovy fillets in milk for 5 mins. Drain on kitchen paper. Arrange chicken pieces on serving dish and keep warm.
Pour pan juices into saucepan and bring to boil, boil 1 min.
Chop anchovy fillets finely and add to pan. Cut olives in half, remove stones.
Add olives and chopped parsley to pan and cook 1 min.
Pour sauce over chicken pieces and serve, either with mashed potatoes of boiled rice.
This recipe first appeared on Gourmet Today TV, aired on TVM on 7 November.
Sponsored by Guinness
Strong tasting Irish stout with a distinctive roasted bitterness. Brewed to perfection for over 200 years. A complex beer full of character that's great with food. Alc. 4.2% Vol.