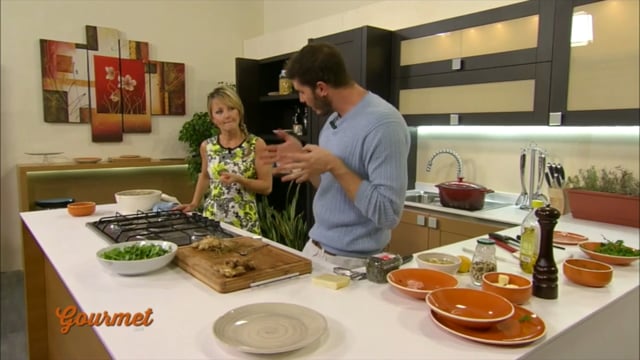 Watch Sean Gravina make a quail salad, smoking the meat on hay
Hay smoked quail on a zingy herb salad
Ingredients
2 deboned quails
Butter
Artichoke hearts
3 tbsp lemon juice
4 tbsp olive oil
40g rocket
15g torn mint leaves
15g torn coriander leaves
30g Pecorino Toscano or Romano, thinly shaved
Maldon Sea Salt and Black pepper
Toasted nuts and seeds
You will also need a large handful of hay that can be used for cooking. This is available from leading supermarkets.
Method
Trim off excess fat from the quails and sauté in a deep cast iron pan with a lid together with some butter just to give some colour and remove.
Place the hay in the hot pan and heat until smoke starts, place the quail and close the pan and place the quail in a 190°C for approx. 5 – 10 mins. (If you do not want the hay to stick to the quail, place a piece of greaseproof paper, perforated with a few holes, between the quail and the hay, however the quail will take on more flavour if placed directly on the hay)
In the meantime prepare the salad by mixing a bowl of water with half the lemon juice and place the artichoke hearts in the acidulated water.
Drain and dry the artichoke hearts and cut into very thin slices and transfer to a large mixing bowl, squeezing over the remaining lemon juice and olive oil to coat.
Remove the quail from the pot and remove any pieces of hay still clinging to the meat.
Just before serving add the torn up herbs and toasted nuts and seeds and season, toss together and plate together with the smoked quail.
Top with Pecorino shavings.
This recipe first appeared on Gourmet Today TV, aired on TVM on 21 November.