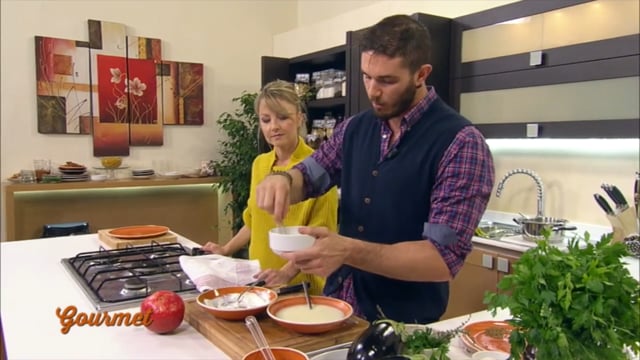 Watch Sean Gravina make a Middle Eastern roasted aubergine with yoghurt dressing and pomegranate
Roasted aubergine with a Middle Eastern yoghurt dressing
Ingredients
2 large and long aubergines
80ml olive oil
1½ tbsp thyme
1 pomegranate
Salt and pepper
Sauce
140ml buttermilk
100g Greek yoghurt
1½ tbsp olive oil
1 small garlic clove
Salt
Method
Heat oven to 200°C and cut the aubergines lengthwise through the middle.
Use a small knife to make four parallel incisions in the cut side down of each aubergine with out cutting through the skin. Repeat on a 45° angle.
Place the aubergine cut side up on a baking tray lined with parchment paper and brush the olive oil until the aubergine can't absorb any more.
Sprinkle with thyme and some salt, roast for 35-40mins. The veg should be browned but not dry. Allow to cool completely.
While the aubergines are cooking prepare the pomegranate and sauce. Cut the pomegranate into two. Hold over a bowl and with a wooden spoon hit the pomegranate so the fruit falls off. Once all the seeds have fallen out, sift through to make sure there no membrane has fallen.
For the sauce just whisk together all the ingredients. Taste for seasoning, then keep cold until needed.
Serve the aubergine with the sauce, pomegranate and a drizzle of olive oil.
This recipe was first seen on Gourmet Today TV, aired on TVM on 28 November, 2014.
Sponsored by Budweiser
The "Great American Lager" is a medium-bodied, flavorful, pure beer with blended layers of premium American and European hop aromas and a crisp dry finish. Budweiser is brewed with time-honoured methods including "kraeusening" for natural carbonation and Beechwood aging, which results in unparalleled balance and character. Alc. 5% Vol.