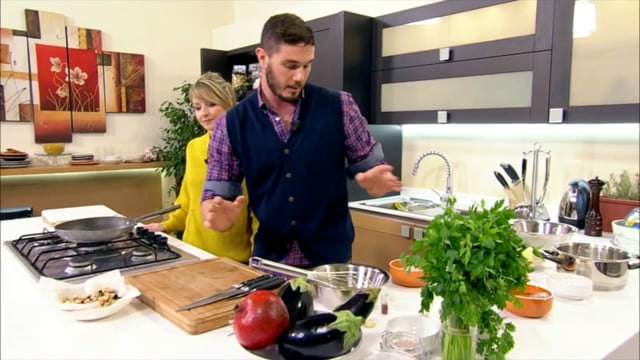 Watch Sean Gravina make an aubergine frittata
Aubergine frittata
Serves 6
Ingredients
120ml sunflower oil, plus extra
3 medium onions, peeled and sliced
3 medium aubergines, peeled
5 free-range eggs
2 tbsp plain flour
1½ tsp baking powder
25g chopped parsley, plus extra to garnish
1 tsp saffron strands, dissolved in 1 tbsp of hot water
3 garlic cloves, peeled and crushed
½ tsp salt
black pepper
Method
Heat the oven to 190°C. Heat the oil in a large, heavy-based pan that can go into the over and sauté the onions over medium heat for seven minutes, until soft but not brown.
Cut the aubergines in two widthways, cut each half into 1cm-thick slices, then cut each slice into 1cm-thick strips.
Add these to the onion pan and cook on medium-high heat, stirring occasionally, for around 10 mins, until the aubergines are completely soft (add a little more oil if needed, but not a lot). Set aside to cool down.
In a large bowl, whisk together the eggs, flour, baking powder, parsley, the saffron and its water, garlic, salt and a good grind of pepper.
Pour into the pan and then put into the oven and bake for 30-40 mins, until golden-brown and cooked through – insert a skewer in the middle to make sure the egg has set.
Remove from the oven and set aside to cool.
Serve warm or at room temperature, sprinkled with parsley. It will keep in the fridge for two days.
This recipe was first seen on Gourmet Today TV, aired on TVM on 29 November, 2014.
Sponsored by Cisk Lager
Malta's award-winning lager is a golden-coloured, bottom-fermented lager with a distinctive and well-balanced character. Its rich hop aroma and pleasant bitterness, combined with a mild astringency, make it an outstanding thirst-quencher. Alc. 4.2% Vol.