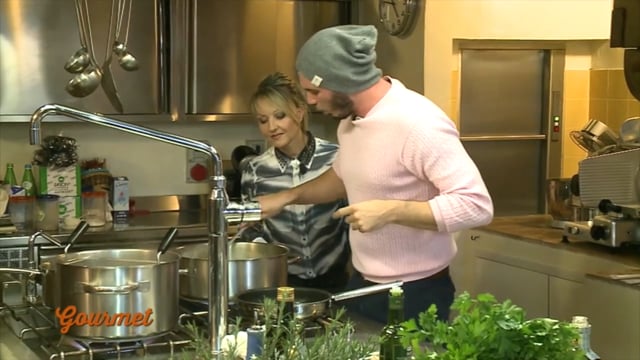 Watch Sean Gravina make a simple aglio e oglio with langoustines
Aglio e olio with langostines
Ingredients
500g spaghetti
1 shallot, finely chopped
8 langoustines
1 tot cognac
1 bay leaf
1 tbsp butter
Monini olive oil
1 bulb garlic
3 chilli
Handful cherry tomatoes
1 sprig thyme
Bunch parsely
Method
Bring salted water to the boil for the pasta.
Cut the langoustine lengthwise and colour in a hot pan with some butter and bay leaf for a few seconds and flambé with the cognac.
Remove from the heat, add salt and squeeze some lemon.
Peel and chop the garlic with a bit of salt very finely.
Heat the olive oil in a separate heavy-based pan.
Gently add the garlic and cook on very low heat, adding a pinch of salt.
Add chopped tomatoes.
Add the thyme and heat gently.
Add chilli to to the oil and switch off the heat.
Cook the pasta according the packet 'al dente'.
Add the pasta to the oil together with some of the water and cook off, add the langoustine together with the juices, parsley and a squeeze of lemon and season.
This recipe was first seen on Gourmet Today TV, aired on 28 November 2014.
Sponsored by Cisk Extra Strong Lager
Cisk XS, as popularly known, is an outstanding extra strong premium lager brewed from barley malt, with a full-bodied flavour and a distinct sweet taste. Its subtle bitterness and fresh fruity aroma make this high-gravity beer an ideal accompaniment to meats and savoury foods. Alc. 9% Vol.