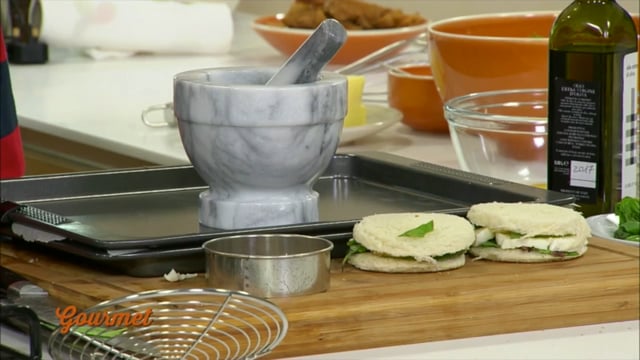 Watch Sean Gravina make the king of all toasties, mozzarella in carrozza
Mozzarella in carrozza
Ingredients
8 slices white bread (sandwich bread)
Fresh basil leaves
8 thick slices of mozzarella, drained and dried
4 tsp anchovy paste
3 large eggs
¼ cup milk
Canola oil for shallow frying
Mixed salad leaves
Method
Lay 4 slices of bread on a small baking tray lined with baking paper.
Arrange 4 basil leaves on each slice of bread slightly overlapping them in the centre.
Set 1 piece of mozzarella on each slice with a bit of anchovy paste.
Top with another slice of mozzarella and add another layer of basil. Lay the remaining slices of bread on top.
Place a piece of baking paper on the top and put another baking tray on top adding weights and pace in fridge for at least 2 hours or over night.
Once rested, remove the crusts or use a 7cm round cookie cutter to cut a shape.
Make an eggwash by cracking the eggs into a shallow bowl and whisking in the milk.
Pour ½ inch of oil in a shallow heavy skillet and heat over medium heat until hot. Line a large plate with kitchen paper
Dip the sandwich in eggwash, remove and drain off the excess.
Add it to pan and cook until golden brown on one side (approx. 2 – 3 mins) then turn with spatula cook on the other side until golden brown (approx. 2- 3 mins).
Remove from the oil and place on kitchen roll to drain excess oil. Season immediately with salt.
Serve immediately with mixed salad leaves. (Go easy on the salad dressing as there is already a lot of oil in the sandwiches.)
Fry the sandwiches one (or two if the skillet is large) at a time. Overcrowding will reduce the temperature of the oil and more will be absorbed by the sandwich, making it too oily.
This recipe was first seen on Gourmet Today TV, aired on TVM on 5 December 2014.
Sponsored by Corona Extra
Corona Extra The best-selling Mexican beer in the world, is lighter than traditional beers, with a crisp and refreshing taste. The light, dry beer has pleasant malt and hop notes with a round dry finish. Regardless of the time of the year, Corona Extra is best served ice cold, with a wedge of lime that complements and intensifies the flavour through the palate. Alc. 4.6% Vol.