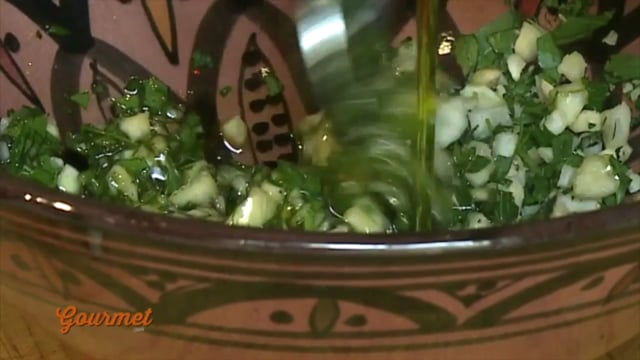 Watch Michael Diacono make vol-au-vents, stuffed with Jerusalem artichoke and mozzarella
Jerusalem artichoke and mozzarella vol-au-vents
Ingredients
600g Jerusalem artichokes
2 cloves of garlic, peeled and chopped
Extra virgin olive oil
Salt and pepper
Chopped parsley
1 red chili
1 tbsp Parmesan
1 mozzarela di bufala
4 vol-au-vent
Parsley pesto
Handful almonds
Handful parsley
Salt and pepper
Olive oil
Method
Soak the artichokes overnight then wash well to remove any soil that might remain. You may scrub the peel off but it is not necessary for this recipe.
Cut the artichokes into small chunks and place into a deep pot.
Add the chopped garlic and season with salt and pepper.
Add the chopped parsley and the chili pepper. Douse with extra virgin olive oil and add just enough water to nearly cover.
Cover with a lid and simmer gently for 25 mins till the artichokes are tender.
Add the Parmesan and stir gently, turning off the heat.
Drain the mozzarella and chop into cubes.
Add to the artichokes and mix in gently. Cover and leave to stand for 5 minutes.
To make the parsley pesto, roughly chop the almonds.
Add the parsley to the board and continue to chop. Season with salt and pepper.
While the pesto is still rough, add a good lug of olive oil, mix well and set aside.
Meanwhile prepare the vol-au-vents by cutting out the centre and pressing down any pastry that remains in the middle. Place onto a baking sheet and warm in a hot oven for 5 mins.
Fill the hot pastry cases with the artichoke and mozzarella mix and serve at once, with parsley pesto.
This recipe first appeared on Gourmet Today TV, aired on TVM on 5 December, 2014.