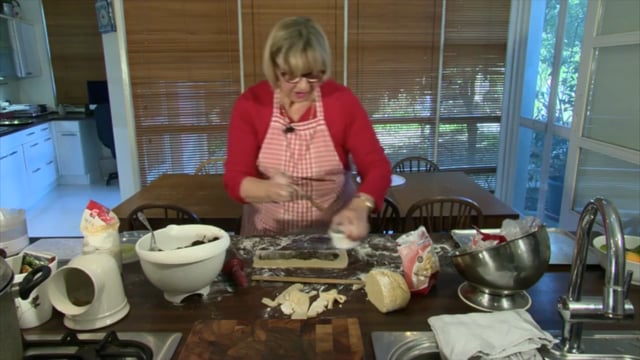 Pippa Mattei makes traditional qaghaq tap-ghasel
Qaghaq tal-ghasel
Makes approx. 16 honey rings
Ingredients
250ml water
12 whole cloves
1 cinnamon stick
150g blanched almonds, roasted and roughly ground
150g granulated sugar
800g semolina
2¼ tins black treacle
1 orange, zest only
1 lemon, zest only
3 tangerines, zest only
400g candid peel, finely chopped
1½ tbsp cacao (optional)
Pastry
115g margarine (like Stork)
¾ large tin evaporated milk and some cold water if necessary
1.2kg plain flour
400g granulated sugar
1 tsp vanilla extract
2 tots anisette
Method
Bring 250ml to the boil and add the cloves and cinnamon stick and allow to infuse, strain and discard the cinnamon and cloves and set the water aside.
Put treacle on low fire with sugar and infused water.
When sugar is melted mix in all other ingredients except the semolina.
Stir well, then add the semolina gradually stirring all the time (this will take approx 10 mins).
Remove from heat and allow to set in a cool place for 48 hours before using.
To make the pastry, sift flour into a large mixing bowl preferably of an electric blender, chop up margarine and add to flour, blend till the mixture resembles breadcrumbs.
Add the sugar and blend in then add all the liquids mixing all the time till dough comes together (adding some cold water if necessary).
The dough should be firm but pliable.
Set aside to rest for an hour or so before using.
When ready to make rings, roll out some pastry on a work surface sprinkled with lots of flour, to measure a rectangle approx 30cm long by 10 cm wide.
Take a generous dessertspoon of the filling and shape into a long sausage on a surface sprinkled with semolina and lay this in the middle of the pastry rectangle leaving about 2 cm at each end empty.
Dampen the edges and fold the pastry over to encase the filling.
Carefully ease the 'sausage' to form a ring and putting one end inside the other, seal the whole ring.
With a sharp knife, slash the top of the pasty ring in 6 places lifting these opening so that the filling shows through.
Put the prepared rings on an oven tray sprinkled with semolina or lined with a silicone sheet and bake in a pre-heated oven at 190°C for 25 mins or until the pastry is barely coloured. Repeat this process until all the pastry and filling have been used up.
Once cooked, allow honey rings to cool and then store in airtight containers until ready to eat.
This first appeared on Gourmet Today TV, aired on TVM on 12 December, 2014.