[WATCH] White chocolate and cranberry bread
Watch Sean Gravina make a white chocolate and cranberry bread, perfect to serve with a strong Stilton and some cranberry jam or will make a great afternoon snack with a cup of tea or even a delicious breakfast, toasted with a little butter if there is any leftover the following day… don't count on it!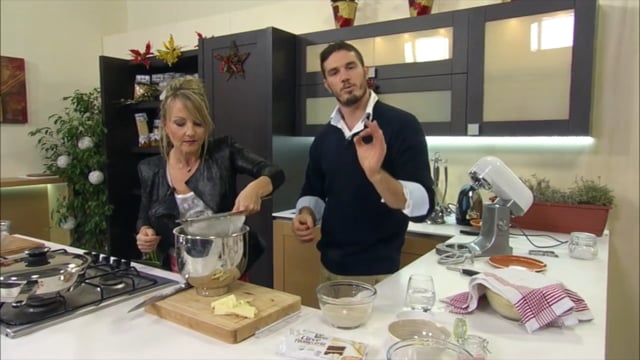 Sean Gravina makes a white chocolate and cranberry bread, prefect to serve with a strong Stilton
White chocolate and cranberry bread
Ingredients
100g cranberries
2 tbsp sugar
375g strong white flour, plus extra for dusting
250g sourdough starter
5g yeast
1 tsp salt
100-130ml tepid water
Olive oil, for kneading
150g white chocolate chips
Fine semolina flour, for dusting
Method
Place the cranberries in a saucepan with a splash of water and the sugar and allow to cook until the cranberries are soft and the water has evaporated.
Combine the flour, starter and yeast in a large mixing bowl.
Add the water and mix with your hands until you have a soft dough.
Coat a chopping board with olive oil, then tip the dough onto it and knead the dough for 5-10 mins, or until the dough forms a soft, smooth skin.
Tip the dough into a lightly oiled bowl and cover with a clean tea towel. Leave to rise in a warm place for five hours, or until at least doubled in size.
Once risen, knead the dough until it is smooth, knocking the air out.
Add the white chocolate chips and cranberry mixture and continue to knead until the chocolate and cranberries are well mixed into the dough.
Roll into an elongated shape to fit into a long proving basket.
Flour the proving basket and place the dough into the basket.
Leave to rise for 5-9 hours.
Preheat the oven to 220°C.
Liberally sprinkle semolina on to the exposed dough in the proving basket; this will give it grip on the baking tray and stop it from spreading .
Place a baking tray over the proving basket, then quickly flip it over, removing the basket and leaving the loaf shape on the baking tray.
Bake for 20 mins, then reduce the oven temperature to 190°C and bake for another 20-25 mins.
If the bread looks like it is colouring very quickly reduce the heat earlier and cover with foil.
This first appeared on Gourmet Today TV, aired on TVM on 12 December, 2014.
Sponsored by Proper job
First brewed in December 2005 for the St Austell Brewery Celtic Beer Festival. Ingredients:Cornish Spring water and malt made from 100% Cornish grown Maris Otter barley. Cascade, Chinook and Willmette hops. Proper Job is dedicated to the 32nd (Cornwall) Regiment who stoutly defended their garrison during the Indian Mutiny in 1857-58. In recognition of a 'Proper Job', Queen Victoria awarded the 32nd the honour of becoming a Light Infantry Regiment. "Light, clear and refreshing with an assertive hop bitterness, Proper Job IPA is based on a traditional IPA recipe which makes it perfect for long, hot summer days."