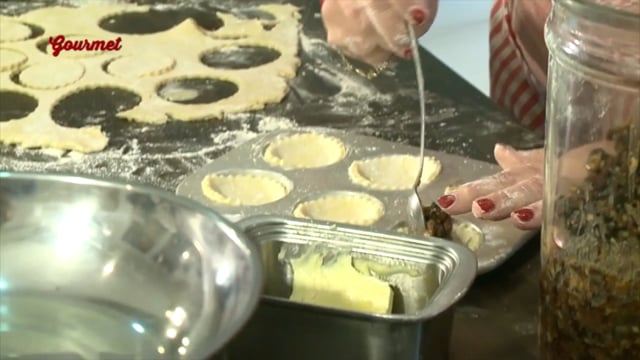 Pippa Mattei makes minced pies for the festive season
Luxury mince pies
Ingredients
Mincemeat
200g apples, peeled and grated
200g mixed peel, finely chopped
200g currants
200g sultanas
200g raisins
200g white sugar
200g suet
25g blanched almonds, chopped
¼ nutmeg, grated
1 orange, zest and juice
1 lemon, zest and juice
1 tangerine, zest and juice
1 glassful of dark rum
Shortcrust pastry
400g plain flour
100g butter or margarine
100g lard or white flora
1 egg yolk
approx 100ml very cold water
1 tbsp lemon juice
Pinch salt
Method
Put all ingredients in a large bowl starting with the dried fruit, mixed peel, apples, suet and sugar, add the almonds and mix all well.
Add the flavouring and rum.
When all is well blended, put into dry jars, pressing down firmly.
Store in a cool dry place until needed for mince pies. Leave the mixture sit for a couple of weeks for the flavours to mix.
To make the pastry, sieve flour and salt into mixing bowl.
Chop up the fats into chunks and mix into the flour and salt with your fingers until they resemble breadcrumbs, lifting the mixture as you go along.
Make a hole in the middle and mix in the cold water to which you have added the lemon juice and the egg yolk (mixed together).
Mix altogether with a knife, until it begins to blend then continue with your hands kneading until bound and soft. You should now have a large ball.
Wrap this in greaseproof paper or a plastic bag, and refrigerate for at least half an hour or until you need it. When ready to use, take out of the fridge and bring back to room temperature then roll out as required on a cold floured surface.
Roll out the pastry to 0.3 cm thick. Cut out rounds with a 7.5 cm fluted cutter and the same amount of rounds with a 5.5 cm fluted cutter.
Line greased patty tins with the large rounds.
Fill with a teaspoon of prepared mincemeat.
Dampen edges of small rounds with water and a pastry brush.
Place on top and press well all round the edges, prick the top with a fork and either freeze or bake.
Bake in a pre-heated oven at 220°C for 15 – 20 mins until just golden.
Take out carefully and serve hot dusted with icing sugar.
Tip
You can prepare the mince pies and freeze them at step 14. Freeze in the tin to start with and when frozen, place in a box with a layer of greaseproof paper between rows of mince pies.
Bake from frozen for 15 – 20 mins.
This first appeared on Gourmet Today TV, aired on TVM on 12 December, 2014.