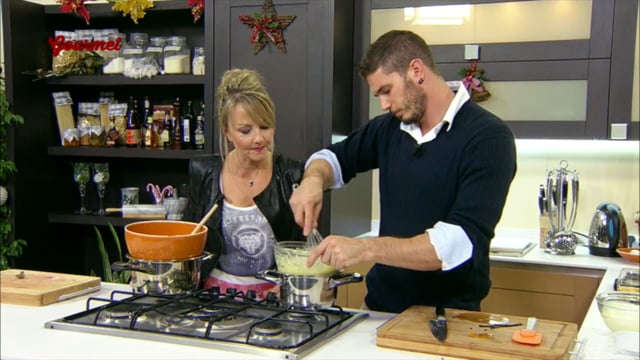 Sean Gravina makes a dark chocolate mousse, served with strawberries and homemade honeycomb
Chocolate mousse with strawberries and honeycomb
Ingredients
325g dark chocolate
500ml cream
4 egg yolks
50g sugar
½ vanilla bean, split and scrapped
3 egg whites
honeycomb, crumbled
Method
Finely chop the chocolate and melt it over a simmering sauce pan and keep warm.
Whip the cream until soft peaks form.
Make a sabayon by combining the egg yolks, sugar and vanilla bean. Cook over a bain maire, whisking continuously until the egg yolks become thick and glossy, then remove sabayon from the heat.
Pour all the melted chocolate into the warm sabayon and, with a large hand whisk, beat as fast as you can to incorporate all the chocolate into the sabayon.
The chocolate will begin to seize; at that point you will need to add 1 large kitchen spoon of whipped cream. Continue to whisk. The cream will begin to soften the mixture.
Add another large spoonful of cream and vigorously for a further for a further 1 minute. The chocolate, egg and cream mixture will now be more workable and relatively stable.
You should have half the whipped cream left.
Whisk the egg whites until soft peaks form.
Place the whisked egg whites and the remaining cream on top of the chocolate mixture and gently fold through until well incorporated. Place the chocolate mousse in the refrigerator for a minimum of 7 hours.
Before serving top with strawberries and crumbled honeycomb.
Homemade honeycomb
Ingredients
335g sugar
125ml honey
80ml water
2 tbsp golden syrup
2 tsp bicarbonate of soda
Method
Grease and line a baking tray with baking paper.
Combine the sugar, honey, water and golden syrup in a medium saucepan.
Place over a low heat and cook, stirring occasionally until the sugar dissolves.
Cook without stirring for 5 – 7 mins until the syrup reaches crack stage (154°C on a sugar thermometer).
Remove from the heat and allow the bubbles to subside.
Add the bicarb and quickly stir with a wooden spoon until combined (the mixture will bubble and foam).
Pour onto the prepared baking tray and allow to cool completely.
Break into bite sized pieces and store in an air tight container.
This recipe first appeared on Gourmet Today TV, aired on 12 December, 2014.
Sponsored by Admirals Ale
Originally brewed as a special to celebrate the 200th anniversary of Nelson's victory at Trafalgar in 1805. However, production of the bottled version and, occasionally, the cask has continued. This premium bottle-conditioned ale has been uniquely brewed using our own Cornish Gold malt. Locally grown barley is traditionally malted using a special kilning process which develops a deeper intensity of colour and flavour than ordinary barley malt. Blended with both Styrian Golding and Cascade hops, the result is a deep bronze ale with a delicious rich biscuit flavour and a wonderful spicy aroma.