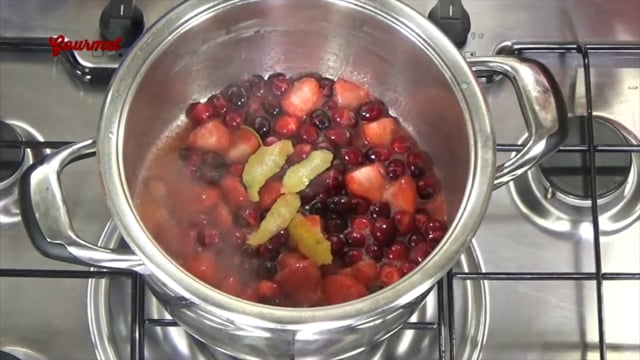 Watch Sean Gravina make a Christmas jam with cranberries and strawberries
The quantities of sugar used in this recipe will vary according to the sweetness of the fruit. You can use any berries you like, but to put a bit of a Christmas touch on the jam we used cranberries (which are a little tart) and strawberries for sweetness. The dried fruit is particularly sweet so try to make the jam without sugar to start and then taste to see if it needs sugar towards the end of cooking and add as much (or as little) as you think it needs.
Christmas berry jam
Ingredients
175g cranberries
100g strawberries
100g butter
½ lime, zest and juice
½ lemon, zest and juice
1 apple, peel only
1 vanilla pod
Handful dried figs, dates, dried blueberries
½ cup apple juice
Few drops of apple cider vinegar
Salt
Method
Melt the butter in a pan and add the mixed berries.
Add the lemon and lime zest and juice and the apple peel.
Cut the dried fruit into small pieces and add to the pot.
Slice the vanilla pot in half and scrape off the seeds. Add the seeds and the pod to the pot.
Once the berries have broken down a little, add the apple juice a pinch of salt and a few drops of cider vinegar.
Allow to simmer for an hour.
Taste and check for sweetness. Add sugar if necessary.
Allow to cook until the sugar has dissolved.
Pour into sterilized jars and serve on Christmas day with a strong Stilton or give as a gift.
This recipe first appeared on Gourmet Today TV, aired on TVM on 19 December, 2014.
Sponsored by Cisk Extra Strong Lager
Cisk XS, as popularly known, is an outstanding extra strong premium lager brewed from barley malt, with a full-bodied flavour and a distinct sweet taste. Its subtle bitterness and fresh fruity aroma make this high-gravity beer an ideal accompaniment to meats and savoury foods. Alc. 9% Vol.