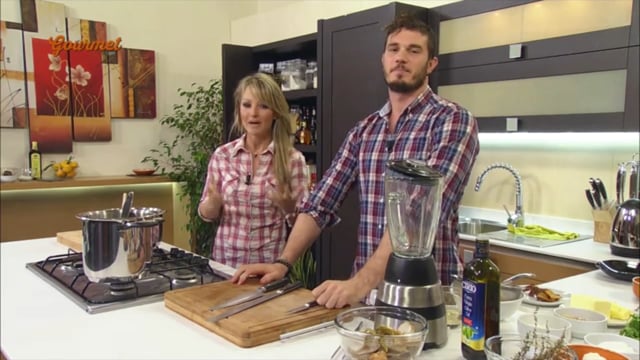 Watch Sean Gravina make a barley risotto with Jerusalem artichokes
Jerusalem artichoke barley risotto
Ingredients
600g Jerusalem artichokes
150g pearl barley
1.25l chicken stock
150g of white wine
1 medium onion, peeled and finely chopped
2 garlic cloves, finely chopped
30g unsalted butter
50g olive oil
Sea salt
Vegetable oil for deep frying
Parsley and peanut pesto
225g olive oil
100g flat-leaf parsley
60g peanuts, skinned and roasted
75g Parmesan, grated
1 garlic clove, peeled and roughly sliced
To finish
175g goat cheese, crumbled
50g mascarpone
30g Parmesan, grated
Salt and pepper
Method
To make the pesto, add the parsley and garlic to a blender and blitz to roughly chop.
Add the remaining ingredients and blend until smooth - if you would like it chunkier, simply pulse a few times until you reach the desired texture. Store in a jar and refrigerate until required.
Preheat the oven to 140°C.
Place the Jerusalem artichokes on a baking sheet and sprinkled with coarse salt.
Bake for approximately 1 hour, until the artichokes are tender and soft
Remove from the oven and allow to cool a little. Cut the artichokes in half, scoop out the pulp and place the skins to one side for deep frying.
Chop the pulp coarsely and set aside.
Bring the stock to a boil in a medium saucepan.
In a separate medium saucepan, heat the olive oil, add the onions and garlic and cook without colour until translucent – approximately 4 mins.
Add the pearl barley and cook for a further 3 mins.
Add the white wine, bring to the boil and cook until the wine has disappeared.
Add 1/3 of the stock, stirring continuously, and allow to simmer gently until the stock has almost disappeared and has been fully absorbed by the barley.
Once the orzotto is nearly dry, repeat the process twice more with the remaining stock. Bring to a low simmer and cook until the barley is tender with just a little bite, approximately 40 - 50 minutes. Once cooked, raise the temperature and cook quickly to evaporate any remaining liquid.
Preheat a deep-fryer or deep saucepan of vegetable oil to 180°C. Deep-fry the reserved Jerusalem artichoke skins in the hot oil for 1 - 2 mins until crisp. Drain, season and keep warm until required.
To finish the barley risotto, return to the heat, add the Jerusalem pulp and mix in well. Bring to the boil and add the mascarpone and butter, mixing well. Finally, stir in the Parmesan.
Season and check the consistency – if it is too stiff, add a little more stock; if too sloppy, cook for a little while longer.
Divide into bowls and crumble a little of the goat's cheese on top.
Spoon on some of the pesto, stud with the crispy skins and garnish with land cress before serving.
This recipe first appeared on Gourmet Today TV, aired on 2 January, 2015.