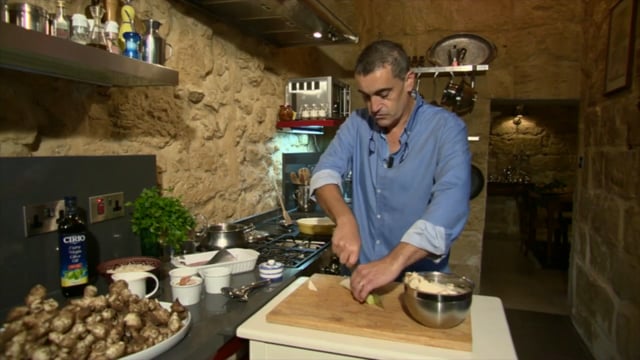 Watch Michael Diacono make a lampuki bake with Jerusalem artichokes and golden, crispy breadcrumbs
Lampuki and Jerusalem artichoke bake
Serves 2
Ingredients
Olive oil
300g Jerusalem artichoke, peeled and chopped
1 leek, chopped
1 tsp dried oregano
1 clove garlic
½ lampuki fillet, bones and skin removed
100ml cream
Handful parsley, chopped
2 large handfuls homemade breadcrumbs
Butter
Method
Preheat the oven to 200C.
Saute the leek in olive oil.
Add the Jerusalem artichoke and season with salt, pepper and oregano.
Add the garlic and allow to sauté for 1 min.
Add water to cover the bottom of the pan but not all of the vegetables.
Cover with a lid and allow to cook for 15 mins until the vegetables are tender.
Cut the fish into chunks and place in a buttered oven dish.
Season with salt and pepper.
Add the cream to the vegetables and the chopped parsley.
Cook for a further 15 mins until the sauce has thickened slightly.
Place the vegetables on top of the fish and top with a good handful of breadcrumbs.
Top with cubes of butter.
Bake for 20 mins.
This recipe first appeared on Gourmet Today TV, aired on 2 January, 2015.