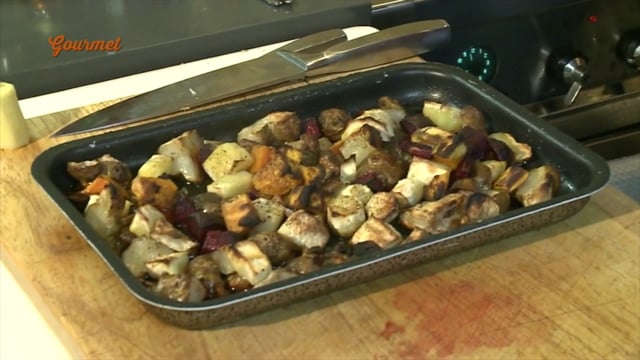 Watch Michael Diacono make roasted root vegetables with mixed seeds and ginger
Roasted root vegetables
Ingredients
½ sweet potato
1 parsnip
2 carrots
1 clove garlic
300g Jerusalem artichoke
1 beetroot
Olive oil
2 tbsp sesame seeds
2 tbsp coriander seeds
2 tbsp sunflower seeds
2 tbsp cumin seeds
1 tbsp honey
A few drops soy sauce
Handful basil, roughly chopped
½ inch piece ginger, grated
½ lime, juice only
Method
Put the olive oil onto a baking tray and place into the oven.
Peel and cut the vegetables into equal parts.
Place the vegetables into the hot oil in the baking tray.
Season with salt and pepper and roast in the oven for 30 – 45 mins.
To make the dressing, heat the oil in a pan and add the seeds into the pan and cook until fragrant and changing colour.
Remove the vegetables from the oven and mix together.
Add the honey, soy sauce, basil, ginger and lime and mix together.
Place on a serving tray and top with the fried seed mixture and serve.
This recipe first appeared on Gourmet Today TV, aired on 2 January, 2015.