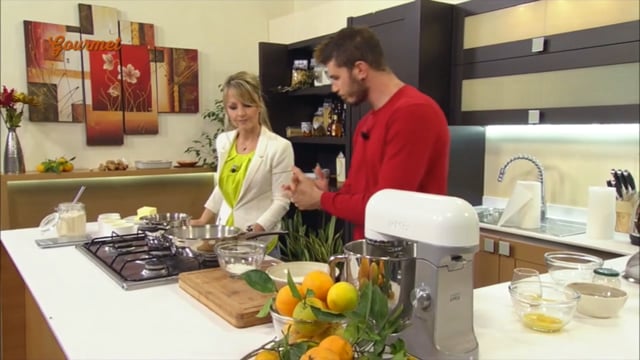 Watch Sean Gravina make orange soufflés with a chocolatey surprise centre
Orange chocolate soufflés
Ingredients
Serves 4
40g butter, softened to grease
70g caster sugar, plus an extra 40g to coat the dishes
250ml freshly squezzed orange juice
125ml milk
3 egg yolks, plus 6 egg whites
10g plain flour
10g corn flour
2 oranges, very finely zested
30ml grand marnier (optional)
20 – 30g icing sugar, to dust
4 chocolate balls
Method
Preheat the oven to 190°C.
Brush 4 ramekins or small soufflé dishes, about 8cm in diameter and 6cm high, with butter.
Put the 40g caster sugar in one of the buttered dishes and rotate it at an angle so that the sugar coats the inside entirely, then tip the excess into the next dish, tapping it as you do so. Repeat until all the dishes are coated.
Simmer the orange juice in a pan over medium heat, to reduce by half to 125ml.
Slowly bring the milk to the boil in a saucepan over gentle heat, then whisk in the reduced orange juice and continue whisking until it returns to the boil.
Whisk the egg yolks and 20g of the caster sugar together in a bowl for 1 minute, then add the flour and cornflour and whisk for a further minute. Pour on the boiling milk and orange juice, whisking all the time, then mix in the orange zest.
In a clean bowl, whisk the egg whites to soft peaks.
Gradually whisk in the remaining 50g caster sugar.
Using a whisk, incorporate one third of the whites into the soufflé mixture, without overworking.
Pour the mixture back into the pan and stir with a whisk over a gentle heat until it comes to the boil.
Allow to boil gently for 1 minute, stirring, then add the grand marnier, if using. Pour the orange flavoured crème patisserie into a bowl, cover with cling film and set aside for 10 minutes.
Gently fold in the remaining egg whites using a rubber spatula, until the mixture is just smooth and homogeneous; take care not to over work.
Using a large spoon, divide the soufflé mixture, filling each ramekin around half way.
Place a chocolate ball into the ramekin and fill the rest of the ramekin with soufflé mixture.
Give each a light tap on the work surface.
Slide the blade knife around the inside edge of each dish, to give the soufflés a good shape as they rise in the oven. Bake for 7-8mins
On removing from the oven, sprinkle to tops with icing sugar.
Serve immediately.
This recipe first appeared on Gourmet Today TV, aired on TVM on 9 January, 2015.
Sponsored by Carlsberg
The Danish global premium all-malt pilsner beer is medium-bodied, dry and well-proportioned with a characteristic hop bitterness that supports its fine structure. Specially chosen hop flowers, malt from lightly roasted spring barley and Carlsberg's famous yeast, Saccharomyces Carlsbergensis, are brewed with pure water to create a quintessential premium beer. Alc. 5% Vol.