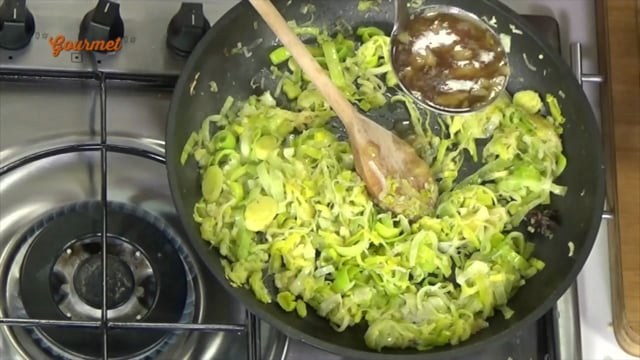 Watch Sean Gravina make a comforting rabbit and prune pie topped with gluten-free pastry
Poached rabbit and prune pie in a gluten-free pastry
Ingredients
For the pastry
300g gluten free flour (blend of tigernut flour, buckwheat flour and brown rice flour)
1 tsp gluten free baking powder
200g butter, cut into cubes
70ml water
30ml vodka
1 tsp of sea salt
For the filling
2-3 cooked rabbit
2 leeks
10 small potatoes
Prunes
1 litre chicken stock
500ml cider
2 cloves garlic
Thyme
1 star anise
1 bay leave
1 tbsp tigernut flour
Salt and pepper
Double cream
Rosemary
1 egg yolk
Milk
Method
Start by making the pastry. Blend a mixture of tigernut, buckwheat and brown rice flour and gluten-free baking powder.
Place the dry ingredients into a food processor and blitz.
Add the butter and pulse 10 times.
Mix the vodka and water together and add enough to the pastry mixture for it to come together.
Remove from the food processor and blitz until smooth.
Wrap in cling film and allow to rest in the fridge for 1 hour.
Preheat the oven to 210°C.
Pick the meat from all the rabbit and place in a bowl.
Boil the new potatoes in salted water until just cooked.
Chop the leeks, garlic and prunes.
Heat a sauté pan big enough to take all the ingredients.
Add some olive oil on a medium heat, add star anise together with the leeks and garlic add a knob of butter.
Sauté slightly and add the cider together with the bay leave and thyme and reduce.
Add the prunes, potatoes and stock to the leeks and cook gently until all the leeks have softened.
Remove the anise and add the rabbit.
Heat through, drain the liquid out of the mixture and into a sauce pan.
Place the sauce on heat and add a tbsp tigernut flour and cook until thickened. Mix sauce with the leeks, garlic, rabbit and prunes and season with salt and pepper.
Once cooked remove from the heat and add the chopped rabbit livers and mix through. (You don't want to cook the rabbit livers in the pan as they will then overcook in the oven.)
Place the mixture in an ovenproof dish.
Place the dough between two pieces of baking paper and role thinly, season with some chopped rosemary and place on top of mixture, tucking in the overlapping pastry.
Brush with egg wash and bake until crisp and golden.
Bake for 40 mins until golden.
Allow to rest for 10 mins before serving.
This recipe first appeared in Gourmet Today TV, aired on 16 January, 2015.