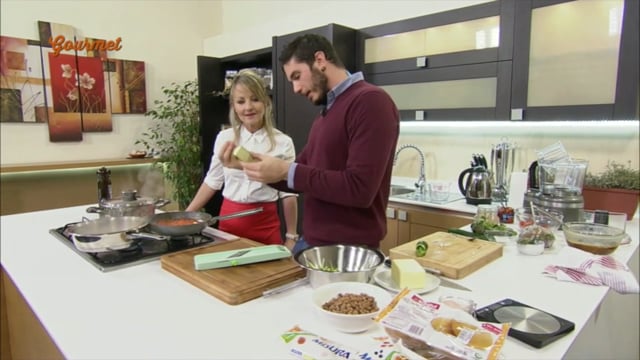 Watch Sean Gravina make a plate of pasta without pasta! Using zucchini instead of pasta, he makes a naturally gluten-free dish.
Zucchini spaghetti with a cherry tomato sauce
Ingredients
4 zucchini
1 box cherry tomatoes
1 tbsp tomato paste (kunserva)
1 clove garlic
Few tbsp vegetable stock
Basil
Pinch of Sugar
Parmesan, grated
Salt and pepper
Method
Start by prepping your spaghetti. Wash the zucchinis and chop off the top and tail and the sides to ensure the zucchini is flat enough to go through a mandolin.
Using a mandolin with the julienne cutter at about 3mm thickness, slice the zucchini into thin strips being careful to avoid your fingers.
Place the spaghetti in a bowl covered in cling film and place in the fridge.
Make the sauce by placing a sauté pan on medium heat together with some olive oil.
Chop the cherry tomatoes in half and add them to the pan, turn up the heat and cook until slightly blistered.
Add the tomato paste together with the sugar and lower the heat. Add a little bit of stock and once the sauce is cooked finish with a few drops of balsamic vinegar and chopped basil leaves.
Boil some salted water and add the zucchini spaghetti. Simmer for approx. 40 seconds until the zucchini cooks through.
Drain and serve with cherry tomato sauce and grated Parmesan.
This recipe first appeared on Gourmet Today TV, aired on 16 January, 2015.