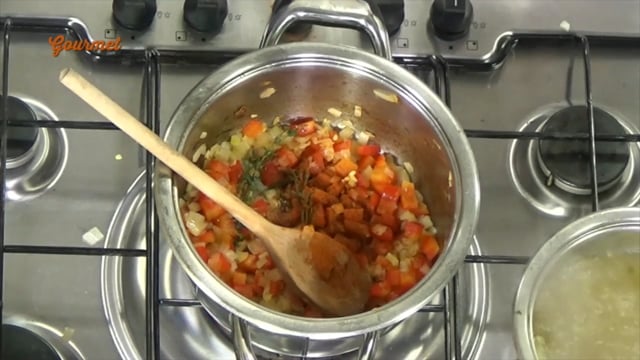 Watch Sean Gravina make a vegan chilli using a combination of pinto, bulotti and cannelleni beans
Vegan chilli
Ingredients
2 tbsp olive oil
1 medium onion, chopped
1 large red bell pepper, chopped
5 cloves garlic, minced
4 tsp chilli powder
250g pinto beans
250g borlotti beans
250g cannellini bean
2 tins chopped tomatoes
1 bay leaf
Vegetable stock
⅓ cup fresh chopped coriander
Salt and pepper
Avocado
Tofu
Method
In a large soup pot, heat olive oil over medium heat.
Add onion and red bell pepper; sauté the vegetables for 8 mins or until onion is soft and lightly browned.
Stir in garlic and chilli powder; cook for 1 min.
Add beans, tomatoes, bay leaf and vegetable stock.
Bring to a boil, lower the heat to medium-low and simmer partially covered for 30 mins or until beans are tender.
Remove from the heat and discard the bay leaf.
Adjust salt and pepper as needed.
Stir in coriander and serve topped with avocado and tofu.
This recipe first appeared on Gourmet Today TV, aired on 23 January, 2015.
Sponsored by Blue Label
A dark brown, top-fermented ale yeast, hopped and mixed with a special type of mild malt gives this richly coloured ale a unique, surprisingly smooth and mild taste . Contains distinctive chocolate and caramel notes. Alc. 3.3% Vol.