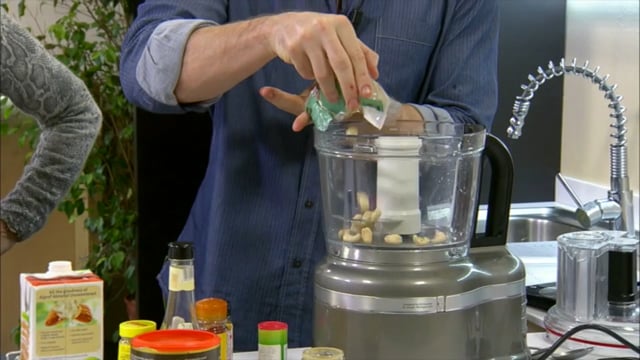 Watch Sean Gravina make a cheesy dip suitable for vegans using natural yeast
Vegan cheesy dip
Ingredients
½ cup raw cashews
1 tbsp tahini (or 1/8 cup pine nuts)
1½ tbsp lemon juice
2 tsp apple cider vinegar
1 cup + 1-3 tbsp plain unsweetened almond milk
¼ cup water
½ tsp sea salt
¼ tsp English mustard (powder)
1 tbsp arrowroot powder
½ tsp paprika
¼ tsp turmeric (for colour)
1½ - 2 tbsp nutritional yeast
Method
Combine all ingredients in a blender and puree until very, very smooth (start with 1 cup + 1 tbsp milk).
Transfer mixture to a small/medium saucepan, and heat over low/low-medium heat for 5-8 mins, until mixture is starting to slowly bubble and thicken (stir frequently through heating).
To thin sauce slightly, stir in another 1-2 tbsp of milk.
Avoid thickening sauce over high heat (or increasing heat too quickly), since this sauce can scorch easily.
Once sauce has thickened, transfer to a serving dish and serve with carrot sticks.
This recipe first appeared on Gourmet Today TV, aired on TVM on 23 January, 2015.
Sponsored by Corona Extra
Corona Extra The best-selling Mexican beer in the world, is lighter than traditional beers, with a crisp and refreshing taste. The light, dry beer has pleasant malt and hop notes with a round dry finish. Regardless of the time of the year, Corona Extra is best served ice cold, with a wedge of lime that complements and intensifies the flavour through the palate. Alc. 4.6% Vol.