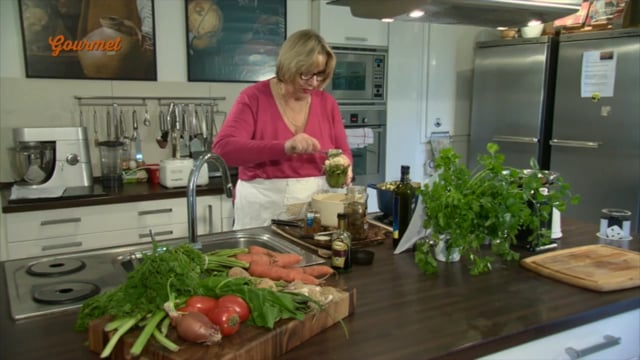 Watch Michael Diacono make artichoke hearts stuffed with minced meat
Stewed artichokes stuffed with minced meat
Ingredients
150g beef, minced
150g pork, minced
100g breadcrumbs
4 tbsp Parmesan
1 clove garlic, minced
Salt and pepper
Handful parsley, chopped
2 – 3 eggs
4 globe artichokes
½ lemon, juice only
Flour, for dusting meatballs
½ onion
1 clove garlic, chopped
1 glass dry white wine
1 tin tomatoes
2 tsp sugar
Method
Mix the minced pork and beef, breadcrumbs, Parmesan, garlic and parsley and season with salt and pepper.
Add two eggs to the mixture to bind it. If the mixture looks a bit dry and doesn't hold together add the third egg.
Clean the artichokes by peeling the stalk and removing the green parts from the bottom. Remove the outer leaves and cut the top parts of the remaining leaves off. Remove the hairy choke and place in a bowl of water with the juice of half a lemon to prevent oxidization.
Fill the artichoke heart with the meat mixture and make meat balls with the remaining meat.
Roll the artichokes and meatballs in flour with salt and pepper, making sure that they are all covered.
Heat some olive oil in a saucepan. And add the artichokes, turning all the time so that they cook evenly.
Add the chopped onion and garlic to the frying artichokes. Stir gently to avoid breaking the artichokes.
Add the meatballs.
Add the wine and season and allow the alcohol to cook off.
Add the tinned tomatoes, add the sugar and stir.
Add a little water, cover and allow to simmer for 45 mins.
Serve with Maltese bread.
This recipe first appeared on Gourmet Today TV, aired on TVM on 30 January, 2015.