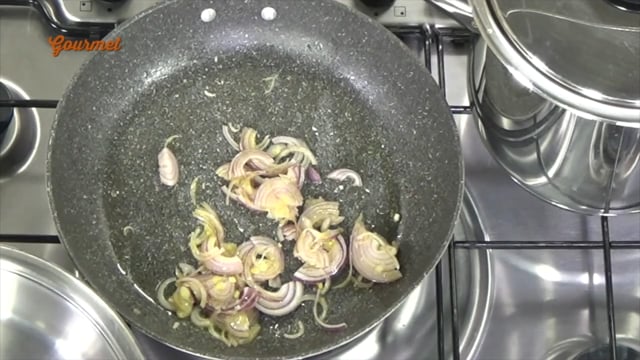 Watch Sean Gravina make an artichoke gratin, a perfect pair with pork chops
Pork chops and artichoke gratin
Ingredients
2 pork chops
2 tbsp butter
2 tbsp olive oil
Artichoke gratin
800g artichoke hearts, cooked
4 lemons, zest and juice
2 medium onions, thinly sliced
60ml olive oil
3 tbsp thyme, chopped
6 tbsp parsley, chopped
150g ricotta
6 tbsp Parmesan, grated
Salt and pepper
Béchamel
50g unslated butter
50g plain flour
200ml chicken stock
200ml milk
¾ tsp salt
1 clove garlic
Bay leaf
Onion
1 tsp mustard
Method
Pre-heat the oven to 190°C.
Put the onions in a pan with the olive oil and some salt and pepper.
Cook on a medium heat for about 10 mins or until golden, stirring occasionally.
Add the cooked artichokes together with the lemon, zest, thyme and parsley. Stir gently to mix.
Taste and add more salt and pepper, if you like. Set aside
Start the béchamel by melting the butter in a small saucepan.
Add the flour and cook on a medium heat, stirring all the time, for about 2 mins. Make sure the mix doesn't brown much.
Mix the stock and milk and slowly add to the saucepan as you whisk.
Add salt and keep cooking and whisking on a low heat for about 10 mins or until sauce is thick and creamy.
Gently mix together the artichokes and béchamel, then pour into a small ovenproof dish that's been lightly greased with oil.
Make small holes in the artichoke mix and into each drop about 1 tsp of ricotta. Cover the dish with foil and bake for 30 mins.
Remove the foil and scatter the Parmesan over the top.
Increase the oven temperature to 210°C. Continue baking for 15-20 mins, or until the Parmesan turns golden brown and the béchamel is bubbling away. Remove from the oven and serve hot or warm.
While the artichokes are baking make the pork chops. Season with salt and pepper.
Melt the butter and oil in a pan and fry the pork chops for 2 to 3 mins on one side, then filp over and cook for a further 1 to 2 mins.
Remove the pork chops from the pan and allow to rest of 2 mins before serving with the artichoke gratin.
This recipe first appeared on Gourmet Today TV, aired on TVM on 30 January, 2015.
Sponsored by Guinness
Strong tasting Irish stout with a distinctive roasted bitterness. Brewed to perfection for over 200 years. A complex beer full of character that's great with food. Alc. 4.2% Vol.