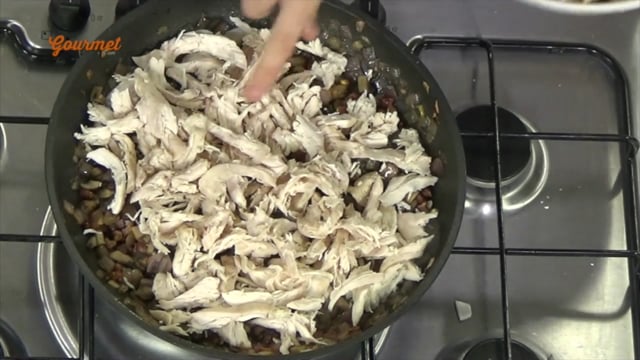 Watch Sean Gravina make a chicken and bacon pie wrapped in filo pastry
Chicken, bacon and pistachio pie in filo pastry
Ingredients
Vegetable oil, for cooking
250g smoked bacon, diced
400g chicken breasts, cooked and shredded
2 onions, finely diced
2 garlic cloves, minced
200g button mushrooms, sliced
500ml chicken stock
1 tbsp brined green peppercorns
100g pistachio nuts, shelled and roughly chopped
2 tbsp chopped oregano
250g filo pastry
150g melted butter
2 tbsp dried oregano
Salt and freshly ground pepper
Method
Preheat the oven to 200°C.
Warm a saucepan over medium heat and drizzle in a little oil.
Add the bacon and cook until it starts to brown.
Add the chicken and cook, stirring now and again, until it has turned golden brown.
Place a colander over a bowl and drain the meat, reserving the fat.
Pour the fat back into the pan and put it back on the hob over a medium-low heat.
Add the onion and garlic and cook for about 10 mins, stirring occasionally, until soft.
Add the mushrooms, cover with the chicken stock and bring to the boil.
Turn the heat down to a simmer and cook until the sauce reduces and thickens – about 10 – 15 mins.
Turn off the heat and stir in the green peppercorns and most of the chopped pistachios, saving some for the garnishing later.
Add the fresh oregano and season. Leave to cool.
Take a sheet of filo pastry and brush it with the melted butter, sprinkle on some dried oregano and place a second piece of filo directly on top of the first.
Brush that sheet of filo with butter and sprinkle with dried oregano too.
Repeat the process until you have 6 or 7 layers, working quickly so the filo doesn't dry out.
Grease a 20cm diameter cast iron dish or a heavy, ovenproof frying pan with some of the melted butter and then press in the layered filo.
Spoon in the chicken mixture, pushing it right up to the edges. Bring the edges of the filo up over the top of the filling.
Take another sheet of filo, brush it with butter and sprinkle on a little dried oregano, then push it down on the top of the filling.
Repeat with another 5 layers, but place them on top of each other with a few creases to add a little texture.
Brush the top layer with butter and sprinkle on the remaining pistachios.
Bake for 12-15 mins, until the top is crisp and golden and the middle is hot.
This recipe first appeared on Gourmet Today TV, aired on TVM on 13 February, 2015.