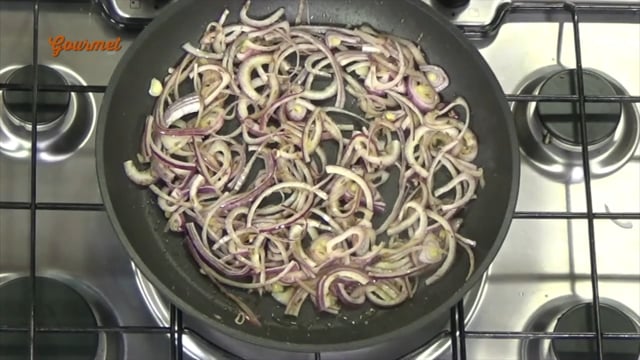 Watch Sean Gravina make the perfect brunch; an Israeli shakshuka with tomatoes and peppers
Shakshuka
Ingredients
½ cumin seeds
180ml light olive oil
2 large onions, sliced
2 red peppers, cut into 2cm strips
2 yellow peppers, cut into 2cm strips
4 tsp muscovado sugar
2 bay leaves
6 thyme sprigs, leaves picked and chopped
2 tbsp parsley, chopped
2 tbsp chopped coriander, plus extra to garnish
6 ripe tomatoes, roughly chopped
½ tsp saffron threads
Pinch cayenne pepper
Up to 250ml water
8 eggs
Salt and pepper
Method
In a very large pan dry-roast the cumin seeds on a high heat for 2 mins.
Add the oil and onions and peppers and sauté for 5 mins, adding water so that the mixture keeps a pasta sauce consistency.
Add the tomatoes, and remaining ingredients (except the eggs) and some salt and pepper.
Reduce the heat to low and cook for 15 mins, adding more water if necessary. (This mixture can be made in advanced and heated in pan when ready to serve.)
Remove the bay leaves, then make gaps in the pepper mix and carefully break an egg into each gap.
Sprinkle with salt and cover with a lid.
Cook on a very gentle heat for 10 – 12 mins or until the eggs are just set.
Sprinkle with coriander and serve with bread.
This recipe first appeared on Gourmet Today TV, aired on TVM on 20 February, 2015.
Sponsored by Budweiser
The "Great American Lager" is a medium-bodied, flavorful, pure beer with blended layers of premium American and European hop aromas and a crisp dry finish. Budweiser is brewed with time-honoured methods including "kraeusening" for natural carbonation and Beechwood aging, which results in unparalleled balance and character. Alc. 5% Vol.