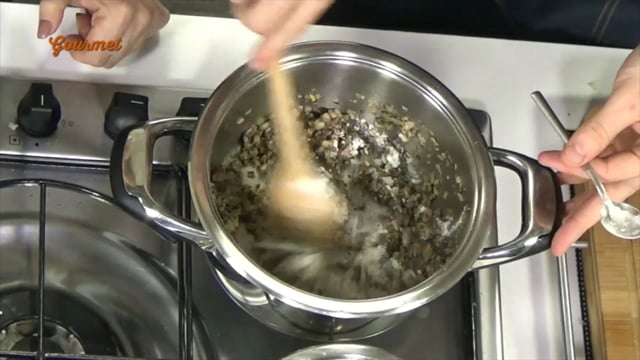 Watch Sean Gravina make deep-fried mushroom croquettes with a Pecorino dipping sauce
Deep-fried mushroom croquettes with Pecorino and white truffle mayo
Ingredients
Extra-virgin olive oil
3 cups mixed mushroom caps, diced
Salt and pepper
1 stalk celery, finely diced
1 shallot, minced
150g flour, plus 6 tbsp
2 tbsp unsalted butter
Pinch nutmeg, freshly grated
300ml chicken stock
1 cup Benna milk
3 large eggs
Panko breadcrumbs
Blitzed walnuts
Vegetable oil, for frying
Paprika for dusting
Pecorino and white truffle dipping sauce
5 tbsp mayonnaise
100g Pecorino
20g truffle shavings or a few drops truffle oil
Fresh chives
¼ lemon, juice only
Method
Heat the olive oil in a large skillet over high heat.
Add the mushrooms and cook until golden, about 4 mins.
Reduce the heat to medium and season with salt and pepper. Add the celery and shallot and cook until the vegetables are tender, about 4 mins.
Add 6 tbsp flour, the butter and nutmeg and cook, stirring, until the flour is toasted, approx. 1 to 2 mins.
Slowly whisk in the broth and cook, stirring, until the mixture is the consistency of gravy, about 4 mins.
Slowly stir in the Benna milk and simmer, stirring, until very thick, 6 to 10 more mins.
Remove from the heat, transfer to a bowl and let cool to room temperature.
Cover and refrigerate until firm, at least 2 hours.
Roll bite-sized pieces of mushroom mixture into balls and roll them in flour.
Coat in beaten egg and then roll in Panko breadcrumbs.
Cover with plastic wrap and put in the fridge for approx. 30 mins.
Place the croquettes into ½-inch of vegetable oil at 180C and fry for 2-3 mins on each side. Work in batches to avoid over-crowding.
Remove with a slotted spoon and drain on paper towels. Dust with salt and pepper and a bit of paprika while hot.
Whisk the ingredients for the Percorino and white truffle dipping sauce.
Serve the mushroom croquettes with the dipping sauce.
This recipe first appeared on Gourmet Today TV, aired on TVM on 27 February, 2015.
Sponsored by Guinness
Strong tasting Irish stout with a distinctive roasted bitterness. Brewed to perfection for over 200 years. A complex beer full of character that's great with food. Alc. 4.2% Vol.