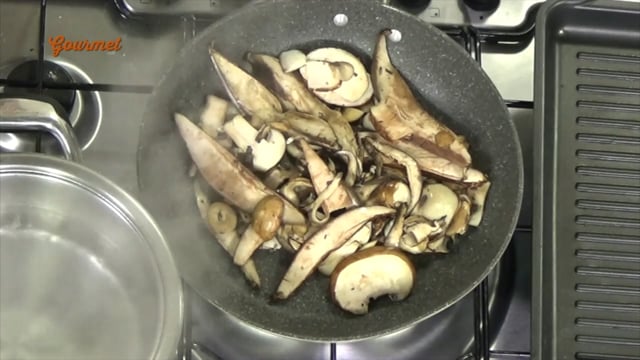 Watch Sean Gravina make the perfect brunch, poached eggs on a bed of mushrooms on brioche toast
Poached eggs on fried mushrooms on brioche toast
Serves 4
Ingredients
Extra-virgin olive oil
350g mixed mushrooms (Portobello, button, chestnut or oyster)
1 stalk celery, finely chopped
Salt
1 tbsp butter
½ onion, finely chopped
1 clove garlic, minced
1 tbsp white vinegar
4 large eggs
1 tbsp parsley, finely chopped
4 slices brioche
2 tbsp salted butter; or as needed
6 loosely packed cups baby spinach
Method
Slice the mushrooms and cook in a pan with olive oil.
Add the celery, onions and garlic and season with salt and pepper.
Place in the oven at 150°C for 15 mins until the mushrooms colour.
Slice the brioche and butter, adding a little salt and toast them on a griddle pan.
Poach the eggs in simmering water with a little vinegar, until the egg whites are set and the yolks are still runny. Repeat with the remaining eggs.
Place the spinach on the plate and top with the brioche toast.
Top with the hot mushrooms and place the poached egg on top.
Garnish with chopped parsley and a little olive oil and serve immediately.
This recipe first appeared on Gourmet Today TV, aired on TVM on 27 February, 2015.
Sponsored by Corona Extra
Corona Extra The best-selling Mexican beer in the world, is lighter than traditional beers, with a crisp and refreshing taste. The light, dry beer has pleasant malt and hop notes with a round dry finish. Regardless of the time of the year, Corona Extra is best served ice cold, with a wedge of lime that complements and intensifies the flavour through the palate. Alc. 4.6% Vol.