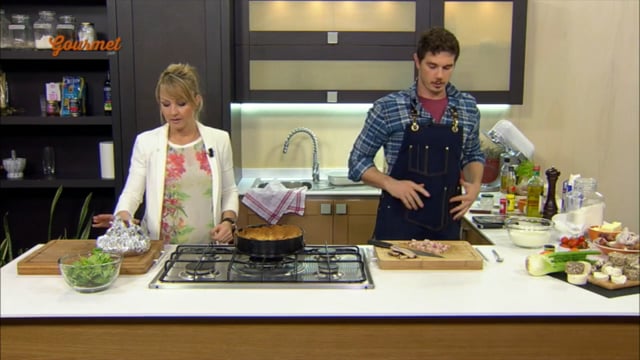 Watch Sean Gravina give a quiche Lorraine a local twist with traditional gbejniet
Quiche Rita
Ingredients
Pastry
250g plain flour
150 g butter, cut into small pieces and slightly softened
1 tsp fine salt
Pinch of caster sugar
1 egg
1 tbsp cold Benna milk
Filling
140g salted fatty guanciale
1 egg
3 egg yolks
150ml whipping cream
150ml double cream
Pinch nutmeg
Salt and pepper
140g Benna gbejna (1.5 cheeselets)
Method
To make the pastry, heap the flour on a work surface and make a well.
Put in the butter, salt, sugar and egg.
Using your fingertips, mix and cream these ingredients together. Little by little, draw in the flour, working the dough delicately until it has a grainy texture.
Add the milk and incorporate gently with your fingertips until the dough begins to hold together.
Using the palm of your hand, work the dough by pushing it away from you 4 or 5 times until it is smooth.
Roll it into a ball, wrap in the cling film and refrigerate until ready to use.
Pre-heat the oven to 190°C.
Roll out the pastry to a 2mm thickness, using a plate as a guide cut out a circle big enough to fit the tin. Line the tin with the pastry and chill for approx. 20 mins.
Prick the pastry case bases. Bake the cases blind, with some beans on parchment paper .
Lower the oven setting to 170°C. Remove the beans and paper and return the pastry cases to the oven for 5 mins. Leave in the tins and set aside while you prepare the filling.
Cook the guanciale in boiling water for about 20 mins, then drain and cut into lardon and leave to cool.
Put the whole egg and yolks in a bowl, mix in the cream with a whisk and season with the nutmeg and salt and pepper.
Place the lardons and grated cheese in the pastry case, then fill to the brim with egg mixture.
Bake in the oven for 15 mins.
Rest on wire wrack and serve with a green salad.
This recipe first appeared on Gourmet Today TV, aired on TVM on 6 March, 2015.