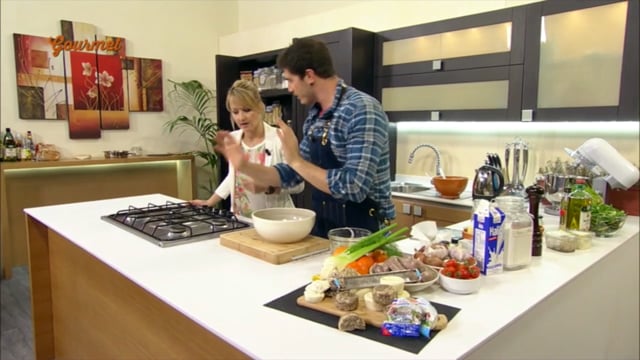 Watch Sean Gravina make a savoury soufflé with gbejniet and guanciale
Gbejna soufflé with crispy Maltese sausage
Ingredients
25g soft butter to grease ramekins
25g Benna peppered ġbejna, grated to coat dish
10g butter
10g plain flour
125ml Benna milk
Salt and pepper
Pinch cayenne
3 medium yolks
5 medium egg whites
120g peppered ġbejna
60g Maltese sausage
Pickled fennel salad
Watercress salad
Orange
Sherry vinegar
Fennel (pickled)
Method
Preheat the oven to 200°C.
Remove the sausage meat from its casing and cook in a pan until it becomes crispy.
Beat the egg whites with a pinch of salt until soft peaks form.
Generously grease the inside of 4 standard ramekins with the softened butter. Put about 25g grated ġbejna into one dish, rotate it to coat the inside, then tip the excess into another ramekin. Repeat to coat them all.
To make the béchamel, melt the 20g butter in a pan.
Add the flour and cook for 2 mins, stirring with a whisk, to make a roux.
Still stirring, add the cold milk and bring to the boil over a medium heat. Let bubble for a minute or two, then pour the béchamel into a bowl.
Season lightly with salt, pepper and cayenne, then whisk in the egg yolk.
Cover the bowl with cling film and let cool slightly.
Immediately mix one-third of the egg whites into the warm soufflé mixture with a whisk, then, using a large spoon, fold in the rest with one hand while showering in the grated ġbejna with the other sprinkle the crispy sausage too, Stop as soon as the mixture is amalgamated.
Spoon the mixture into the ramekins to come 5mm above the rim. Smooth the surface with a palette knife, then use a knife tip to ease the mixture away from the side of each ramekin to help it rise.
Stand the ramekins in a deep oven proof dish lined with a sheet of grease proof paper and pour in enough almost boiling water to come halfway up the sides. Bake the soufflés for 4 – 6 mins, until risen.
Put the cooked soufflés on individual plates and serve at once with pickled fennel salad.
This recipe first appeared on Gourmet Today TV, aired on TVM on 6 March, 2015.
Sponsored by Blue Label
A dark brown, top-fermented ale yeast, hopped and mixed with a special type of mild malt gives this richly coloured ale a unique, surprisingly smooth and mild taste . Contains distinctive chocolate and caramel notes. Alc. 3.3% Vol.