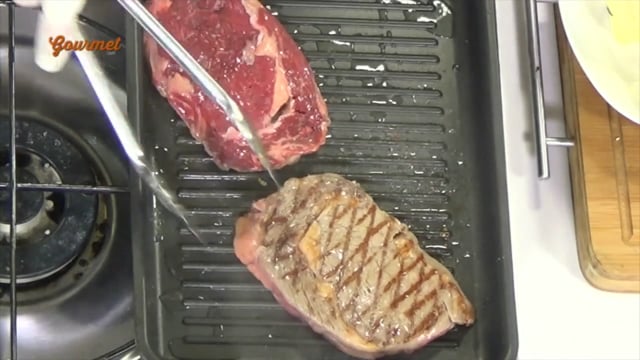 Watch Sean Gravina make a hefty steak sangwicc with coffee barbecue sauce
Steak sangwicc with coffee barbecue sauce
Serves 4
Ingredients
2 ribeye steaks
2 tbsp onion compote
1 beef tomato
2 small gherkins
Watercress
Handful applewood cheddar, shredded
Handufl sweet cheddar
2 ftiras
Garlic, mustard butter
2 cloves garlic
Large knob butter
2 tsp Dijon mustard
Salt and pepper
Coffee barbecue sauce
½ cups strong-brewed coffee
1 cup ketchup
¾ cups firmly-packed brown sugar
½ cups apple cider vinegar
2 shallots, finely chopped
½ cup sweet chili sauce
2 cloves garlic, minced
2 tbsp soy sauce
2 tbsp ground cumin
2 tbsp chili powder
1 tsp Sriracha or Tabasco sauce
Method
To make the coffee barbecue sauce, stir all ingredients into a medium sauce pan.
Bring to simmer then reduce the heat to low until flavours meld (approx. 40 mins) stirring occasionally.
Cool to room temperature and serve. (Will keep for about 2 weeks or more in the refrigerator.)
Make the mustard and garlic butter melt the butter into a saucepan and lightly sauté the garlic.
Add the mustard and season with salt and pepper. Allow to cool until set.
To cook the steaks, heat a grill and season the meat and smear with a little oil.
Cook the meat to your desired doneness, depending on the thickness. I cook mine to a medium rare and allow it to rest for about 5 mins.
Butter the bread and toast on the griddle pan.
Once toasted add the compote and place the tomato and watercress, then place the meat, sliced gherkins and BBQ sauce.
Finally add some shredded cheese and place in a preheated oven until the cheese is melted.
Spoon over some BBQ sauce and place the top of the ftira onto the sandwich.
Cut in half and serve warm.
Sponsored by Blue Label
A dark brown, top-fermented ale yeast, hopped and mixed with a special type of mild malt gives this richly coloured ale a unique, surprisingly smooth and mild taste . Contains distinctive chocolate and caramel notes. Alc. 3.3% Vol.