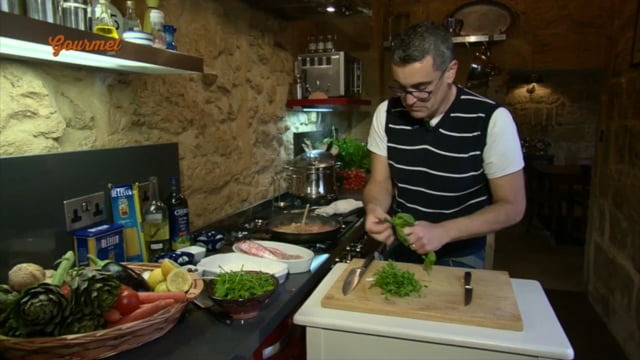 Watch Michael Diacono make a dish of pasta with red mullet and fresh herbs in the time it takes to boil the pasta
Bucatini with trill and fresh herbs
Ingredients
500g bucatini (or pasta of your preference)
6 red mullet (trill)
Plain flour
Salt and pepper
Olive oil
10 cherry tomatoes
2 cloves garlic, chopped
1 tsp chilli flakes
Squeeze lemon
1 glass white wine
Bunch fresh parsley, chopped
Bunch fresh basil, chopped
1 tbsp black olives
1 tbsp pistachios, roasted
A few rocket leaves
Method
Bring a large pot of salted water to the boil.
Add the buccattini and cook until al dente.
In the meantime, fillet the trill (you can ask your fishmonger to do this for you)
Dredge the fillets through the plain flour, seasoned with salt and pepper.
Heat some olive oil in a pan and add the tomatoes.
Add the garlic and the chilli flakes.
Add the trill fillets when the tomatoes have started to soften.
Season with salt and pepper.
Add some lemon juice and the white wine and allow to evaporate.
Add the basil and parsley and the black olives. If the sauce is starting to look dry, add a ladleful of water from the pot where the pasta is cooking.
Allow to simmer for a few mins.
When the pasta is appox. 1 min away from being cooked, drain from the water and add to the pan with the sauce.
Mix and allow to simmer for approx. 1 min.
Place in individual bowls or in one large bowl to place in the middle of the table.
Add some more parsley and basil on the top as well as the pistachios and rocket.
Serve immediately.
This recipe first appeared on Gourmet Today TV, aired on 27 March, 2015.
Sponsored by Cisk Lager
Malta's award-winning lager is a golden-coloured, bottom-fermented lager with a distinctive and well-balanced character. Its rich hop aroma and pleasant bitterness, combined with a mild astringency, make it an outstanding thirst-quencher. Alc. 4.2% Vol.