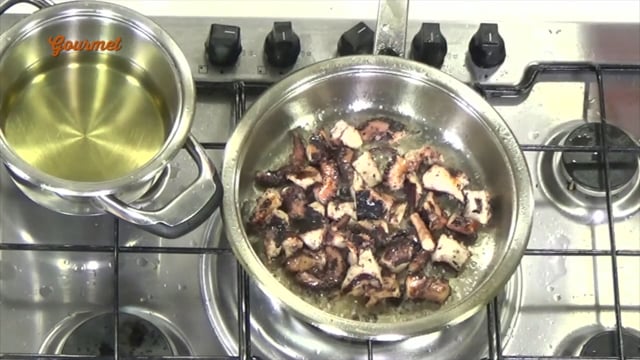 Watch Sean Gravina make an octopus salad with blue potatoes and deep-fried capers
Blue potatoes are not entirely new, with origins in the Andean highlands in South America.. They are available in Malta in selected stores and though they offer much the same flavour as new potatoes, their bright blue colour with purple skin gives vibrancy to any dish. The blue colour is completely natural and comes from the same pigments found in purple cabbage, pomegranates and blueberries and contain antioxidant properties.
Octopus with chorizo, blue potato and capers
Ingredients
1kg octopus, cleaned, frozen for at least 4 days, then thawed
1 onion
2 sticks celery
2 carrots
1 bay leaf
1 sprig fresh thyme
10 black peppercorns
200ml red wine
2 tbsp olive oil
10 blue potatoes, cooked and halved
250g cooking chorizo sausage, skinned and cut into 1cm dice
2 tbsp confit shallots (see recipe)
1 lemon, segmented
1 sprig of fresh parsley, finely chopped
Sea salt and freshly ground black pepper
1 heaped tbsp capers, deep-fried for 30 secs until crisp
Method
Make sure the octopus has been frozen for at least 4 days before cooking. This breaks down the connective tissue in the boneless head and tentacles, making the meat more tender.
Deep-fry the capers in hot oil for 30 seconds until crispy. Set aside on kitchen paper to absorb excess oil.
Place the octopus in a large saucepan, and add the onion, celery, carrots, herbs and peppercorns.
Pour in the wine and enough cold water to cover and slowly bring to the boil.
Lower the heat and simmer for about 45-60 minutes, or until the octopus is tender.
Allow it to cool in the stock, then remove to a board, taking care as the skin is delicate and can come away.
Cut into 2.5cm pieces discarding the vegetables.
When ready to serve, heat the olive oil in a frying pan.
Add the potatoes and the pieces of octopus and lightly brown.
Add the chorizo and cook until the fats are released.
Sauté together for 2-3 mins, then add the confit shallots, lemon segments and parsley.
Give everything a good mix and sauté for a few mins and season with salt and pepper.
Serve with crispy capers.
This recipe first appeared on Gourmet Today TV, aired on 27 March, 2015.
Sponsored by Beck's
The original Beck's is a classic German premium lager beer with a distinctive full-bodied taste, fresh "hoppy" bouquet, golden colour and full rich head. Adding to its complexity is a slightly fruity but firm crispness and a dry, clean finish. Alc. 5% Vol.