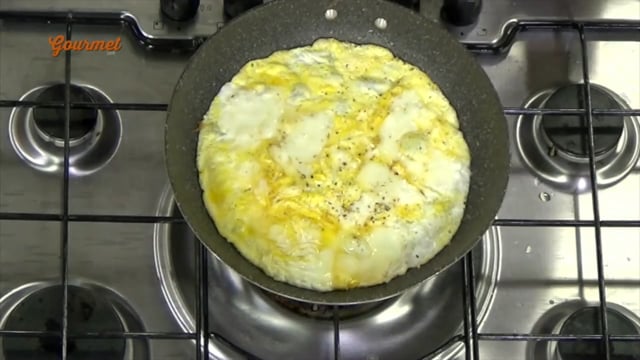 Watch Sean Gravina make the perfect brunch, omelette rolls stuffed with smoked salmon and watercress, served with a shredded potato salad.
Smoked salmon omelette rolls with shredded potato salad
Ingredients
Shredded potato salad
200g new potatoes
2 spring onions
1 lemon, juice only
Bunch fresh coriander
Olive oil
Salt and pepper
Omelette rolls
2 large eggs
Smoked salmon
Small bunch watercress, stalks removed, chopped
Salt and pepper
40g clarified butter
Dressing
5 tbsp olive oil
3 lemons, juice only
2 spring onions, finely sliced
2 tbsp crème fraîche
1 tbsp grated fresh horseradish
Croûtes
4 slices of white bread, 1cm think
Method
Start by preparing the potato salad by boiling the new potatoes in their skin for about 20 mins until tender, then drain.
Peel half the potatoes and then shred with a cheese grater.
Slice the spring onions and add to the shredded potato.
Season with salt and pepper and add the lemon juice, olive oil and chopped coriander and set aside.
To prepare the sauce, mix the crème fraîche with horseradish, add the lemon juice and season with salt and pepper and set aside.
Prepare the croûtes by cutting out 4 rounds from each slice of bread, using a 3.5cm plain pastry cutter and toasting under the grill on one side only, set aside.
Break the eggs into a bowl, beat them very lightly and season with salt.
Slice the salmon into fine slices and mix the watercress leaves with the salmon and set aside.
Gently heat a 20cm non-stick pan with a very flat base, then brush with a little softened butter.
Pour one quarter of the beaten egg into the pan and tilt to spread the egg thinly and evenly over the surface, as if you were making a crepe.
Cook over a low heat for about a minute, until the omelette has set.
Remove from the pan and slide on a sheet of greaseproof paper or a plate. It should be cooked on one side only to keep it soft and malleable.
Make two more omelettes in the same way.
Place the salmon and watercress mix in the centre of the omelette and a spoonful of sauce.
Roll the omelettes gently but firmly and evenly and slice each one in two.
Divide the potato salad between 2 plates and arrange 2 omelettes on each plate on top of the croûtes and serve immediately.
This recipe first appeared on Gourmet Today TV, aired on TVM on 17 April, 2015.
Sponsored by Corona Extra
Corona Extra The best-selling Mexican beer in the world, is lighter than traditional beers, with a crisp and refreshing taste. The light, dry beer has pleasant malt and hop notes with a round dry finish. Regardless of the time of the year, Corona Extra is best served ice cold, with a wedge of lime that complements and intensifies the flavour through the palate. Alc. 4.6% Vol.