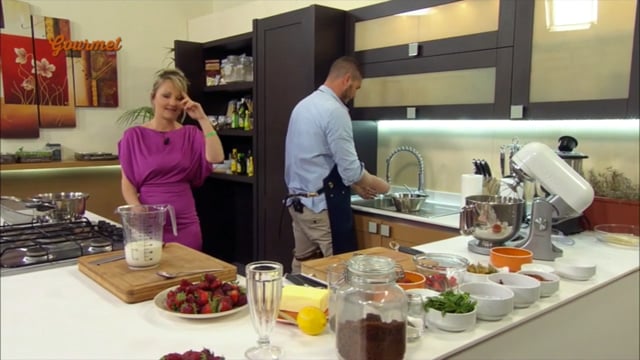 Watch Sean Gravina put his own twist on the traditional trifle
Strawberry trifle
Ingredients
Macerated berries
200g strawberries
50g raspberries
100g caster sugar
1 star anise
Custard
600ml whole milk
1 vanilla pod, split lengthways and seeds scraped
85g caster sugar
6 large egg yolks
40g cornflour
150ml double cream
Garnish
Handful strawberries
Handful pecan nuts, toasted
1 tbsp crème de cassis (or 100ml blueberry juice, 1 tot vodka, 2 tbsp brown sugar)
1 tbsp icing sugar
1 physalis per person
Method
Chop the strawberries and the raspberries roughly and add the sugar and star anise. Leave to rest for 5 mins.
Mix the blueberry juice with a tot of vodka and brown sugar and place in a saucepan over low heat until the mixture becomes syrupy.
Put the milk, vanilla pod and a tablespoon of the sugar into a saucepan and bring to a simmer.
Meanwhile, beat the egg yolks, cornflour and remaining sugar together in a bowl.
Slowly pour in the hot milk, stirring all the time to prevent the eggs from curdling. When fully incorporated, rinse out the pan.
Strain the mixture back into the clean pan and return to the heat.
Whisk over low heat until it thickens sufficiently – usually right before simmering point. Transfer to a bowl to cool, stirring every once in a while to prevent a skin from forming.
Once the custard has cooled, whip the cream into soft peaks, then fold into the custard to lighten it.
Chill for a few hours or over night, if preparing in advance.
To assemble the trifles, spoon the custard to fill the bottom third of eight small clear glasses.
Cut four strawberries into quarters. Put the rest into a large bowl along with the crème cassis (or reduced blueberry mixture) and a little icing sugar.
Add a layer this, then a layer of macerated berries and some pecans and top with remaining custard and more of the fresh and macerated berries.
Finish with one physalis on each trifle and dust with icing sugar.
This recipe first appeared on Gourmet Today TV, aired on TVM on 1 May, 2015.