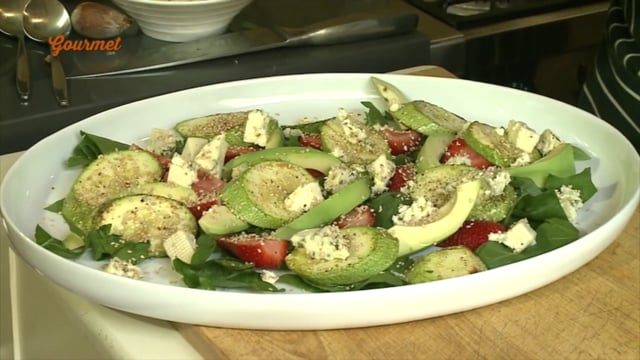 Watch Michael Diacono make an unusual salad with strawberries, blue cheese and avocado.
Strawberry and blue cheese salad with marrows, avocado and sesame seeds
Ingredients
1 marrow
Handful fresh spinach leaves
200g strawberries
1 avocado
200g blue cheese
2 tbsp sesame seeds, toasted
Dressing
1 tbsp honey
1 tbsp white wine vinegar
3 tbsp olive oil
Salt and pepper
Method
Cut the marrow into thick slices, season with salt and pepper and fry in some olive oil for a few mins on each side.
Prepare the dressing by mixing the honey, vinegar olive oil and salt and pepper.
In a serving dish, cut the fresh spinach leaves and place in the dish.
Hull and chop the strawberries in half and place in the dish.
Peel and cut the avocado into large slices and place in the dish.
Top with blue cheese and toasted sesame seeds.
Top with the dressing and serve.
This recipe first appeared on Gourmet Today TV, aired on TVM on 1 May, 2015.