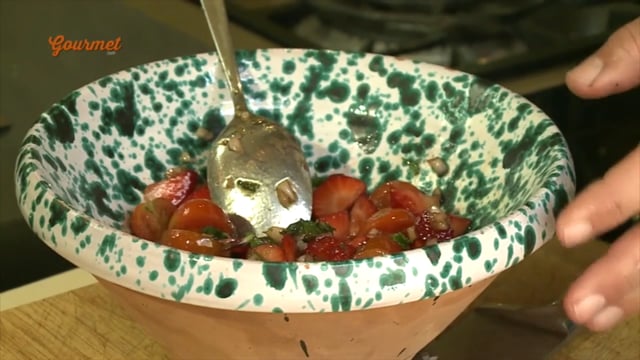 Watch Michael Diacono make asparagus with strawberry and cherry tomato relish.
Asparagus with strawberry and cherry tomato relish
Ingredients
500g asparagus
10 strawberries
5 cherry tomatoes
¼ onion, finely diced
Handful fresh mint
Salt and pepper
1 tbsp balsamic vinegar
Olive oil
Method
Break the hard ends of the asparagus off, reserving the hard ends to make a stock or soup.
Bring some salted water to the boil and drop the asparagus into the water with the spears at the top. The thicker ends of the asparagus need slightly more cooking than the delicate spears.
Allow to cook for approx. 4 mins until tender.
In the meantime make the strawberry and cherry tomato relish by chopping the strawberries and cherry tomatoes and place in a bowl with the finely chopped onion.
Add the fresh mint, salt and pepper, balsamic vinegar and olive oil.
Mix well and allow to rest for 5 mins.
Drain the asparagus, reserving the water for use in a stock.
Place the asparagus in a long dish and top with the strawberry and cerry tomato salsa.
This recipe first appeared on Gourmet Today TV, aired on TVM on 1 May, 2015.