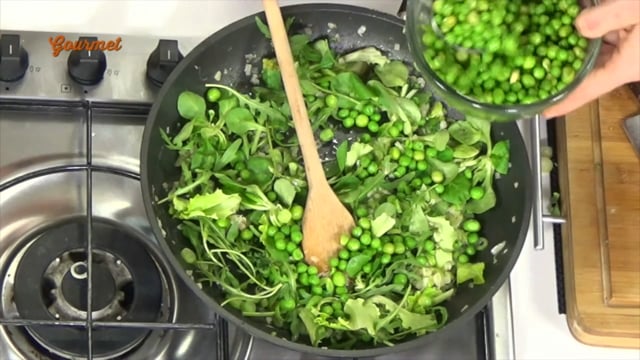 Watch Sean Gravina give a traditional ricotta and pea pie his own twist with feta cheese and lemon zest.
Ricotta, feta and pea pie
Ingredients
Shortcrust pastry
250g flour
150g butter, cut into small pieces and slightly softened
1 tsp salt
Pinch of sugar
1 egg
1 tbsp milk
Filling
Olive oil
1 large onion
200g peas
150g celery, thinly sliced
50g spring onions, chopped
50g rocket
Handful parsley
Handful mint
Handful dill
120g, ricotta cheese
60g feta crumbled
1 lemon, zest only
2 eggs
Salt
Pinch sugar
Method
Start by making the shortcrust pastry by heap the flour on a work surface and make a well. Put in the butter, salt, sugar and egg.
Using your fingertips, mix and cream these ingredients together. Little by little, draw in the flour, working the dough delicately until it has a grainy texture.
Knead the dough until smooth, roll it into a ball, wrap in clingfilm and place in the fridge until ready to use (at least 30 mins).
Preheat the oven to 200°C.
To make the filling, pour 2 tablespoons of olive oil in a large, deep frying pan. Add the onion and saute for 8 mins over medium heat without browning.
Add the celery and continue cooking for 4 mins, stirring occasionally.
Add the spring onions, peas, rocket, herbs and cook for 2 mins more. Remove from the heat and transfer to a colander to cool.
Once the mixture is cool, squeeze out as much water as you can and transfer to a mixing bowl. Add the three cheeses, lemon zest, eggs, salt, pepper and sugar and mix well.
Roll out the rested pastry and line the pie dish.
Fill with the mix and fold the excess pastry over the edge of the filling, trimming the pastry as necessary to create a 2cm overhang.
Cover the pie with a layer of pastry and seal the edges, eggwash and bake in the oven for approx. 40 mins until it turns golden brown.
Remove from the oven and allow the pie to rest for 10 mins before serving.
This recipe first appeared on Gourmet Today TV, aired on TVM on 8 May, 2015.
Sponsored by Cisk Lager
Malta's award-winning lager is a golden-coloured, bottom-fermented lager with a distinctive and well-balanced character. Its rich hop aroma and pleasant bitterness, combined with a mild astringency, make it an outstanding thirst-quencher. Alc. 4.2% Vol.