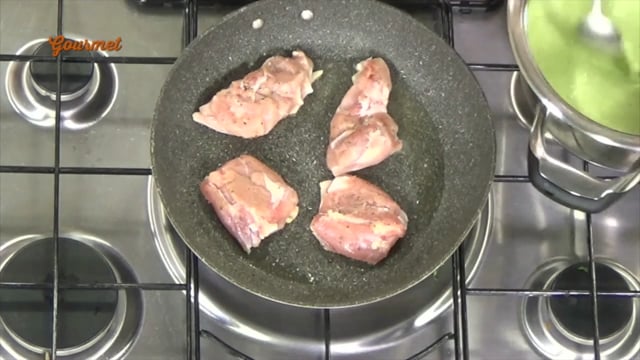 Watch Sean Gravina turn a simple chicken dinner into a dish worthy of a dinner party.
Chicken thighs with pea puree and a mushy pea salad
Ingredients
Vegetable oil
8 chicken thighs, boned but skin left on
Salt
3 egg yolks
15g caster sugar
½ vanilla pod, split
25ml double cream
375g frozen peas
250g frozen peas, defrosted
100g fresh raw peas
1 shallot, peeled and diced
½ bunch of marjoram, leaves picked
Pinch of curry powder
Pinch of ginger powder
Olive oil
Micro herbs for garnish
Baby green and reds
Method
Preheat the oven to 180°C.
Heat an oven-proof frying pan until hot, add a little vegetable oil and fry the chicken, skin side down, until the skin is golden brown.
Add a knob of butter and baste the thighs in melted butter until the entire thigh is golden.
Transfer the pan to the oven and cook for a further 15 minutes, or until cooked through.
Remove from the oven, season to taste with salt and leave to rest in a warm place.
To make the pea puree, whisk together the egg yolks, sugar and seeds scraped from the vanilla pod in a bowl.
Blanch the frozen peas in salted water, then drain and whiz in a blender to a puree.
Warm the cream and pureed peas in a saucepan, then pour over the egg yolk mixture. Return the contents to the saucepan and whisk the mixture over a medium heat until it thickens to a custard consistency.
Pour into a bowl, cover closely with clingfilm to prevent a skin from forming and refrigerate.
To make the mushy pea salad, pulse the defrosted peas a couple of times in a blender. Add the fresh peas, shallot and marjoram.
Season with curry powder, ginger and salt, then bring together with a little olive oil to create a pea salad.
Dress each serving plate with pea puree, two chicken thighs and a generous spoonful of pea salad.
This recipe first appeared on Gourmet Today TV, aired on TVM on 8 May, 2015.
Sponsored by Cisk Extra Strong Lager
Cisk XS, as popularly known, is an outstanding extra strong premium lager brewed from barley malt, with a full-bodied flavour and a distinct sweet taste. Its subtle bitterness and fresh fruity aroma make this high-gravity beer an ideal accompaniment to meats and savoury foods. Alc. 9% Vol.