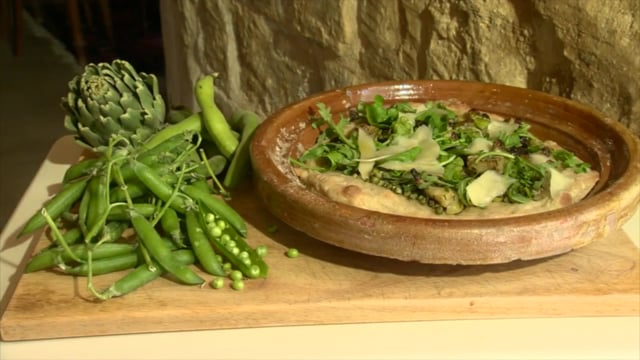 Watch Michael Diacono make a Maltese-style pizza with Maltese bread dough, topped with peas, broad beans and artichokes.
Maltese pizza with peas and artichoke
Ingredients
Olive oil
½ onion, chopped
2 cloves garlic
1 red pepper, more or less to taste
4 artichoke hearts, peeled
2 handfuls broad beans, peeled
Salt and pepper
¼ lemon, juice only
500g Maltese bread dough
Handful parsley, chopped
Handful mint, chopped
2 tbsp black olives
2 fillet anchovies (optional)
Handful rocket
Grana Padano, shavings
Method
1.Heat the oil and allow the onion, garlic and red pepper to soften.
2.Blanch the peas in salted boiling water for one minute and immerse immediately in cold water so that the peas keep their bright green colour.
3.Add the artichoke hearts, broad beans and peas.
4.Season with salt and pepper and add the lemon juice.
5.Add enough water to cover the vegetables and allow to simmer for 20 mins.
6.Add the fresh herbs, olives and anchovies, if using, towards the end of cooking.
7.Allow the mixture to cool a little.
8.Grease the baking tray with olive oil.
9.Pull the dough into a round base.
10.Put the pea, bean and artichoke mixture onto the dough and drizzle some olive oil
11.Bake in a hot oven for 20 – 30 mins until the bread dough is golden.
12.Remove from the oven and add rocket leaves to the top.
13.Add Grana shavings, a little olive oil and serve.
This recipe first appeared on Gourmet Today TV, aired on 8 May, 2015.