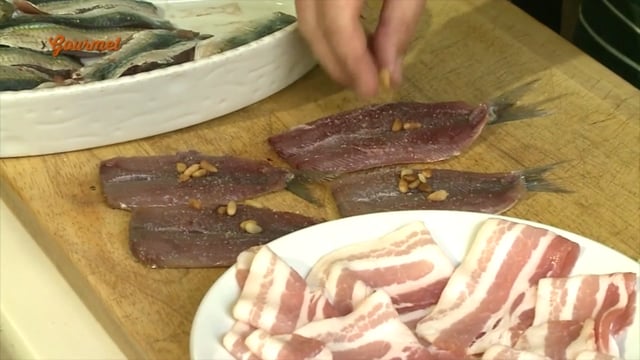 Watch Michael Diacono make sardines stuffed with bacon and pine nuts, served with peas and spinach.
Sardine involtini with bacon with fresh peas and spinach
Serves 4
12 sardines, filleted
Handful pine nuts, toasted
Salt and pepper
6 rashers streaky bacon
Olive oil
½ onion, chopped
1 clove garlic
5 cherry tomatoes
200g fresh peas, shelled
Handful parsley
Handful fresh spinach
½ lemon, juice only
Method
Season the sardine fillets with salt and pepper.
Place a few toasted pine nuts onto the fillet.
Cut each rasher of bacon in half and place half a rasher on each sardine fillet.
Roll the sardines and secure with a toothpick.
Heat the olive oil in a heavy-based pan and add the sardine involtini.
At the same time add the chopped onion and garlic and allow to cook for a couple of mins.
Cut the cherry tomatoes in half and add to the pan with the peas.
Add the chopped parsley and the spinach and cook until wilted.
Season with salt and pepper and add the lemon juice.
Remove from the heat and serve immediately.
This recipe first appeared on Gourmet Today TV, aired on TVM on 8 May, 2015.