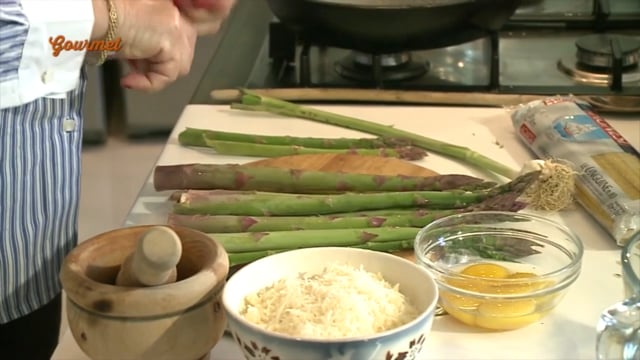 Watch Pippa Mattei give a classic carbonara a twist by substituting the bacon for asparagus.
Asparagus carbonara with linguine
Serves 4
Ingredients
500g asparagus
500g linguine
4 egg yolks
2 cloves garlic, crushed with a pinch of sea salt
150g Parmesan, freshly grated, plus extra for serving
Salt and pepper
Method
Snap off the tough ends of the asparagus, then cut at an angle into 2cm slices. Set aside, leaving spears intact.
Add linguine to a pot of boiling salted water, which you will be cooking until just al dente. (2 minutes less than the cooking time on the packet).
Halfway through cooking time (about 5 minutes left) add the asparagus to the pot. Continue cooking till the pasta is ready.
Meanwhile, put the egg yolks and garlic into a sauté pan (off the heat) and beat just until the yolks are broken up. Add 2 ladlefuls of the pasta water and keep to one side.
Sieve the linguine and sliced asparagus, keeping another 4 ladles of water aside. Add the linguine and asparagus to your sauté pan.
Add the Parmesan, put back on the heat, and toss the pasta by shaking the pan or using a wooden spoon, to coat the pasta in sauce. Add more water until you have the desired consistency.
Serve with more Parmesan and some freshly ground black pepper.
Get more of Pippa Mattei's recipes in her books 25 Years In A Maltese Kitchen and Pippa's Festa.
This recipe first appeared on Gourmet Today TV, aired on TVM on 15 May, 2015.