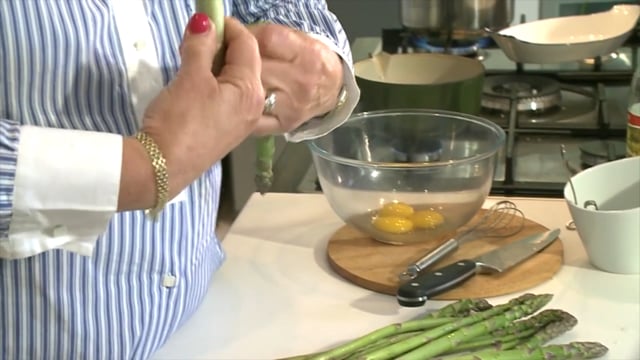 Watch Pippa Mattei make a classic steamed asparagus dipped in hollandaise sauce.
Steamed asparagus with a classic hollandaise sauce
Ingredients
1 large bunch fresh asparagus
Hollandaise sauce
3 egg yolks
2 tbp wine vinegar
100g salted butter, cut into pieces
¼ level teaspoon salt
Pinch pepper
Method
Prepare a bunch of Asparagus by snapping off the woody end of the stems.
Bring a narrow pot of water to the boil.
To make the hollandaise sauce, put the egg yolks and vinegar in a bowl and stir till they are well mixed. Plunge the asparagus upright into the pan of boiling water, and boil for 6 mins or until the asparagus is cooked to the bite, drain and place in serving dish.
Place this bowl onto a pan of simmering water and heat gently stirring until the yolks thicken.
Add one piece of butter to the egg yolks and whisk over the gentle heat until the butter melts. Add the remaining butter a little at a time whisking continuously.
When all the butter has been added to the bowl over the gently simmering water, continue to whisk until you have a thick sauce.
Remove from the heat, and add the salt and pepper.
Serve warm with the cooked asparagus.
Get more of Pippa Mattei's recipes in her books 25 Years In A Maltese Kitchen and Pippa's Festa.
This recipe first appeared on Gourmet Today TV, aired on TVM on 15 May, 2015.