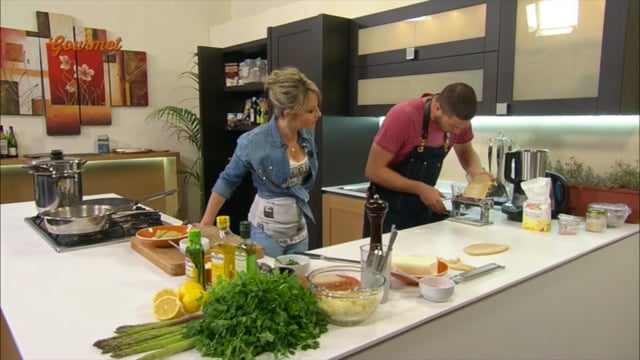 Watch Sean Gravina make fresh ravioli stuffed with asparagus, mint and creamy potatoes.
Asparagus and mint ravioli tossed in mascarpone
Ingredients
130g potatoes, peeled
340g asparagus, bases trimmed and stalks peeled
½ garlic clove
Olive oil
Salt and freshly ground black pepper
1 handful fresh mint, chopped
500g fresh pasta
1 large knob of butter
1 heaped tablespoon mascarpone cheese
1 handful grated Parmesan
Method
Cook the potatoes in salted boiling water until tender and drain.
Remove the tips of the asparagus and set to one side.
Finely slice the stalks and fry with the garlic in a little olive oil until tender, placing a lid on the pan.
Remove from the heat, add the potato and mash together.
Season carefully and add half the chopped mint to taste.
Roll out the pasta using a pasta machine, starting on the thickest setting and reducing the setting to the one before the finest setting every second time you put the pasta through the machine.
On a floured surface, cut the pasta into large discs, depending on how large you want your ravioli.
Place one teaspoon of filling onto the centre of the pasta discs.
Rub the edges with water and cover with another disc of pasta, pressing the sides down to seal. Ravioli may be kept in the fridge for a few hours or frozen at this stage.
Bring a pot of salted water to the boil. Gently drop the ravioli in along with the asparagus tips. Boil for 3 – 4 mins and drain.
Toss the ravioli in butter, mascarpone, Parmesan and the remaining mint.
This recipe first appeared on Gourmet Today TV, aired on TVM on 15 May, 2015.