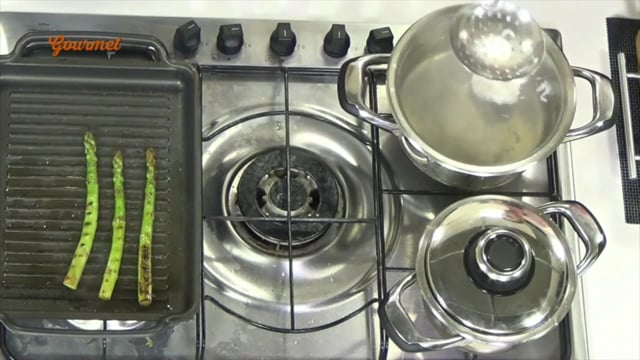 Watch Sean Gravina make a poached egg on a bed of grilled asparagus topped with breadcrumbs and Parmeggiano cream.
Poached egg on grilled asparagus with Parmeggiano cream
Ingredients
450g asparagus, ends trimmed and stalks peeled
1 tbsp white wine vinegar
4 large eggs
3 tbsp olive oil
¼ cup Parmeggiano Reggiano, finely grated
¼ Panko breadcrumbs
2 tbsp unsalted butter
Freshly ground pepper
Parmeggiano cream
½ cup of heavy cream
1/3 cup finely grated Parmigiano-Reggiano
Salt and pepper
Method
Place the asparagus on a hot griddle pan that has been slightly oiled.
Turn the asparagus over every minute or so until the asparagus are evenly cooked all over but still retain some integrity.
Fill a medium pot two-thirds full of water, salt it, and stir in the vinegar. Bring the water to a gentle simmer over medium heat; do not allow the water to boil.
One at a time, crack the eggs into a cup and carefully add them to the water. Poach just until the whites are firm, about 4 mins, then use a slotted spoon to transfer the eggs to a plate.
Position a rack in the centre of the oven and preheat the grill
Brush the bottom of a small baking dish with olive oil.
Carefully transfer the eggs to the dish and top each egg with a drizzle of olive oil, then scatter the Parmeggiano and breadcrumbs over them.
Set under the grill until the breadcrumbs are golden brown and the cheese is melted, approx. 2 – 3 mins. To make the Parmeggiano cream put the cream in a small heavy saucepan, bring to a simmer over low heat, and reduce by half, approx. 4 mins.
Whisk in the cheese and remove the pan from the heat. Use right away or cover to keep warm for up to 20 mins.
To serve, divide the asparagus into 4 portions.
Top each portion of the asparagus with an egg, transferring it from the baking dish to the plate with a spatula, then drizzle some Parmeggiano cream over each serving.
This recipe first appeared on Gourmet Today TV, aired on TVM on 15 May, 2015.