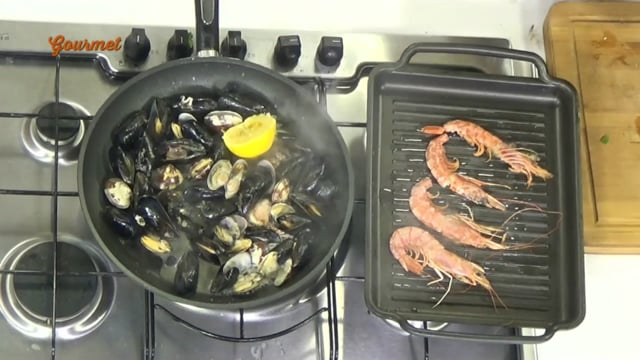 Watch Sean Gravina make a Mediterranean dish of mixed shellfish with salsa verde.
Mediterranean shellfish with salsa verde
Ingredients
4 king prawns
500g mussels and clams
1 clove garlic
½ lemon, juice only
Lime wedges, for seving
Salsa verde
Small bunch flat leaf parsley
15-20 basil leaves
2-3 anchovies
1 tsp capers
1 tsp mustard
Pinch sugar
Few drops lemon juice or vinegar
1-2 tbsp extra virgin olive oil
Freshly ground pepper
1 chilli
Watercress
Method
Finely chop the garlic on a large chopping board.
Add the herbs, anchovies and capers and chop all together until the ingredients are well mixed and fairly fine in texture.
Transfer to a bowl and mix in a little mustard, sugar, lemon juice or vinegar , black pepper and enough olive oil to give a glossy, spoonable consistency. As you add these last ingredients, taste and tweak the mixture till you get something you really like.
Set aside. This sauce will keep, covered, in the fridge for a few days.
When ready to serve, prepare the shellfish.
Heat some olive oil in a pan and add the garlic clove whole.
Add the mussels and clams, season with salt and pepper.
Add the lemon juice and cover until the shells open.
To prepare the king prawns, slice in half in their shell and remove the vein.
Grill, meat side down on a hot girll pan for a few mins until the flesh changes colour.
Serve the shellfish, topped with king prawns and drizzle over the salsa verde and place lime wedges at the side of the plate.
This recipe first appeared on Gourmet Today TV, aired on TVM on 22 May, 2015.