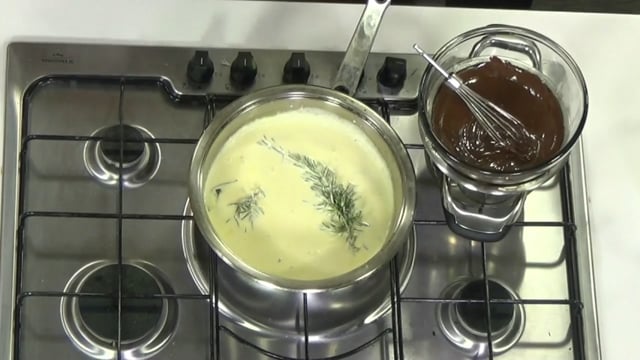 Watch Sean Gravina make chocolate truffles with unlikely flavourings - rosemary and bay leaves.
Chocolate truffles with rosemary and bay leaf
Ingredients
12g rosemary
1.5 bay leaves
150g whipping cream
150g dark chocolate (minimum 65% cocoa solids), chopped
1 tsp salt
To finish
Cocoa powder, or crispy chocolate coating
Method
Put the rosemary sprigs, bay leaves and whipping cream in a saucepan and place over low heat to warm for 10 mins. Turn the heat off and leave the pan to stand for 30 mins.
While the cream is infusing, line a deep container or baking tray with baking paper and set aside.
Strain the infused cream, discarding the herbs, and return it to the saucepan.
Place the pan over a medium heat and bring up to a simmer.
Melt the chocolate in a large bowl over a saucepan of simmering water.
When the cream is simmering, remove the pan from the heat, add the salt and the melted chocolate a third at a time, making sure that the cream is thoroughly incorporated after each addition. Allow to cool slightly.
Pour the chocolate mixture on to the lined tray and leave to stand at room temperature for 4 hours, then place in the fridge for 5-6 hours or until set.
Using a small melon baller, scoop balls of the chocolate out of the ganache, or cut into cubes, then roll in cocoa powder or the crispy chocolate coating.
This recipe first appeared on Gourmet Today TV, aired on TVM on 22 May, 2015.